Interior designers, craftsmen, nature enthusiasts, and artists alike will enjoy this beautiful collection of wood samples which includes many trees that are now very rare or completely extinct.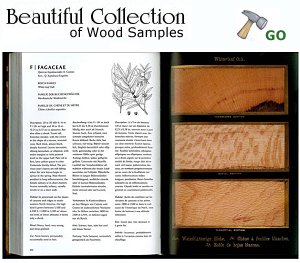 For all trees, now arranged in alphabetical order, three different cross-section cuts of wood are represented (radial, horizontal, and vertical), demonstrating the particular characteristics of the grain and the wealth of colors and textures to be found among the many different wood types.

Also included in this special edition are lithographs by Charles Sprague Sargent of the leaves and nuts of most trees, as well as texts describing the trees' geographical origins and physical characteristics.

» by Romeyn B Hough
» 799 pages
» Hardcover
» Publisher: Taschen
» 25th Anniversary (July 1, 2007)


The Woodbook: A Great Gift Idea for Father's Day!

With a naked eye or microscope you will be able to identify 180 hardwoods, softwoods amd tropical woods by following the straightforward techniques described in this text.

» by R Bruce Hoadley
» 240 pages
» Hardcover
» Publisher: Taunton Press
» First Printing edition (Oct. 1, 1990)
A Manual of Wood Identification
Strong, pliable, and natural, wood is the world's most versatile structural resource. But how to tell one kind from another and choose just the right wood for your project? This remarkable collection of forty actual wood samples shows the color, grain, and texture of the leading varieties. Detailed drawings identify uncut, unfinished trees by their leaves, fruits, and bark.

» by Herbert L. Edlin
» 160 pages
» Publisher: Viking Adult
» Illustrated (May 23, 1969)
Wonderful full-color pictures give close-up views of the various wood grains, while the main section showcases more than 200 woods used in cabinetmaking, joinery, carpentry, turning, carving, and a host of specialist applications, and another 200 receive shorter listings.

» by Terry Porter
» 288 pages
» Hardcover
» Publisher: Guild of Master Craftsman
» Rev Exp edition (Feb 1, 2007)
The information is presented in clear, nontechnical style. It describes over three hundred principal woods; indicates the common and scientific names of each; shows how to recognize a tree by its leaf, bark, or berry; and features over one hundred fifty illustrations on how to identify a type of wood by grain, color, and texture.

» by Albert J. Constantine Jr.
» 384 pages
» Paperback
» Publisher: The Lyons Press
» Revised Edition (June 1, 2005)
Helps you select a wood for your next shop project ...
This kit contains 50, 4" x 9" samples, of beautiful veneers selected to give you a truly fabulous collection of the world's most colorful and exciting woods from the four corners of the earth - India, Ceylon, South America, East Indies, Australia and the U.S.A. Each sample is labeled and identified by its common name and country of origin. Based on the availability of certain species, the kit content is constantly changing.

With these samples you can enjoy, examine and learn to recognize the rich color, fascinating grain and distinctive texture of some of the veneers used on furniture. It can help you select your favorite wood for your next shop project and can be used in small craft work or for testing various finishes.