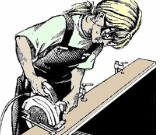 Dedicated to Women in Woodworking
Woodworking for All of Us!
. . . . . . . . . . . . . . . . . . . . . . . . . . . . . . . . . . . . . .
Are you interested in woodworking but hesitant to get started? Need some help learning about and understanding woodworking tools? We found some great books that help guide you into the wonderful world of woodworking ...
Create a Beautiful, Modern Home with One-of-a-Kind DIY Furniture Beds, organizers, Adirondack chairs, a play table, and more! It's easy to build inexpensive, quality furnishings with this indispensible collection of woodworking projects from Ana White, the popular blogger who has inspired millions of homemakers with her stylish furniture plans and DIY spirit.

As a young mom on a tight budget, Ana learned to make her own well-designed pieces inspired by the styles in her favorite stores - saving thousands of dollars in the process.

▸ Paperback: 192 pages
▸ Publisher: Potter Craft
▸ Publish Date: October 9, 2012
---
Beginning woodworkers are constantly stymied by the apparent need for thousands of pounds worth of tools to start their hobby. Once they have the tool, they face a learning curve to understand how to use the tool. The next problem is finding wood to build the projects. Not everyone has a lumberyard nearby.

▸ Paperback: 176 pages
▸ Publisher: Popular Woodworking Books
▸ Publish Date: March 29, 2012 - 2 edition
▸ Product Dimensions: 0.5" x 8.4" x 10.9"

This book shows you how to build quality furniture projects that can be completed by any woodworker with a modest (but decent) kit of tools in less than two days of shop time, and using raw materials that are available at any home center. The enclosed tool manual explains all the tools and shows you how to perform the basic operations in a step-by-step format.
---
Blending the practicality of IKEA with the creativity of Martha Stewart, this collection of innovative projects is presented with simplicity of construction in mind. The suggested pieces are practical, have broad appeal, and carry a high brag factor upon completion. Requiring minimal assembly time and tools, this concise, engaging, and even humorous guide offers countless tips as well as clear and instructive photography.

▸ Paperback: 128 pages
▸ Publisher: Linden Publishing / April 1, 2011
▸ Product Dimensions: 0.3" x 8.5" x 11"

The majority of the projects also incorporate clever construction, such as the use of bifold doors, stock cabinets, and off-the-shelf lumber, guaranteeing that the required materials are both inexpensive and easily accessible. Featuring ideas for furnishing both the interior and the exterior of the home, this handbook is ideal for weekend woodworkers.
---
This debut book by bloggers Sherry and John Petersik is filled with hundreds of fun, deceptively simple, budget-friendly ideas for sprucing up a home. With two home renovations under their (tool) belts, 5 million blog hits per month, and an ever-growing audience since the launch of Young House Love in 2007, Sherry and John are home-improvement enthusiasts primed to pass on a slew of projects, tricks, and techniques to do-it-yourselfers of all levels.

▸ Hardcover: 336 pages
▸ Publisher: Artisan
▸ Publish Date: November 5, 2011
▸ Product Dimensions: 1.1" x 7.5" x 8.5"

Whether an experienced decorator or a total novice, on a tight budget or with money to spend, any homeowner or apartment dweller will find ideas for his or her own home makeovers here. Learn to trick out a thrift-store mirror, spice up plain old roller shades, "hack" your Ikea table to create three distinct looks, and so much more.
---
While this book was written for any beginning woodworker, it has a special appeal for women. The projects, based on popular items found in fashionable stores and catalogs, are attractive, relatively simple to build, and have obvious appeal. And they are far less expensive to build than to buy. Each project is graded from simplest to most difficult, with each one teaching a set of skills that build on the skills learned in previous projects.

▸ Paperback: 204 pages
▸ Publisher: Taunton Press
▸ Publish Date: March 12, 2003
▸ Product Dimensions: 0.6" x 8.4" x 10.6"

The book is written in a friendly, encouraging tone and includes not only a wealth of practical information, but also humorous tales of woodworking misadventures aimed at relieving beginners' worry about making mistakes.
---
This free script provided by JavaScript Kit
---

We are a participant in the Amazon Services LLC Associates Program, an affiliate advertising program designed to provide a means for sites to earn advertising fees by advertising and linking to
Amazon.com
.