The Complete Guide to Wood Joinery
The Joint Book by Terri Noll
in association with Amazon.com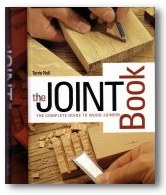 This is the ultimate workshop reference ...
Giving woodworkers all the knowledge they need to choose the right joint for the job. It also features step-by-step, illustrated instructions for making over 70 joints, including mortise and tenon joints, dovetails, miters and more.

Covers Every Basic Joint in Every Joint Family ...
Including a range of joint variations and helpful jigs. Every workshop should have this book whether you are just starting out or a seasoned veteran.

A handy 6½" x 8" Spiral Bound Book ...
Lays out flat on your bench freeing your hands up while you work.