Attention Please: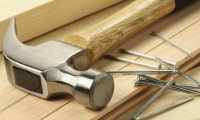 After 16 years in the custom woodworking business, we have decided to retire and close our shop. We are no longer building custom woodcrafts. We want to thank everyone for their support throughout the years and appreciate your business. We hope you will continue to shop our site for other wood products, tools, plans lumber, hardware and shop supplies. ~ Deb & Dan McBride
A little bit about Dan McBride

~ master woodworker

Dan learned drafting techniques in high school then went on to attend college in Utah. He has been in the carpentry business all of his adult life.

Spanning across almost every western state, he has done everything from concrete to cabinets.

After many years of working in the home-building field, Dan finally decided to concentrate his energies on what he loves to do best, designing and building small wood crafts in our home-based woodworking shop.

Time has passed quickly and now it is time to retire. Dan will be doing more fun things like fishing and gardening.


Here is a picture of Dan's woodworking shop in beautiful N. Arizona.



Dan custom-built this bench to his own specifications.

A little bit about Deb McBride

~ the webmaster

Deb is a self-taught free-lance web designer and graphic artist. She is the designer and webmaster of this site which has grown from a mere 3-page website to over 600 pages full of photographs of Dan's work over the years.

While attending the University of Okla., Deb learned a lot about art and design. However, back then home computers were not even a reality. Once she got her own PC, everything changed.

As office manager, Deb spends many hours each day answering e-mails, updating web pages and helping fellow woodworkers find supplies.