Search Amazon.com:


Intarsia Woodworking - Scroll Saw Books

Bookstore with topics such as Intarsia - Marquetry - Scroll Saw, woodworking tips and techniques and more - in association with Amazon.com ...
---
37 Projects and Expert Techniques for Segmentation and Intarsia
From a 17-year-old who creates his own designs to a professional who enhances her artwork with acrylic paint and food coloring, there's no better way to learn intarsia than from someone else's experience. That is why we have collected 37 of the most popular intarsia projects from Scroll Saw Woodworking & Crafts and packed them into this one big collection.
Whether you are a beginner or have been scrolling for years, you'll be inspired by the unique designs and inspirational stories from renowned intarsia artists Kathy Wise, Judy Gale Roberts, Janette Square, Frank Droege, John Morgan, and others. Plus, you will find expert step-by-step ... »
Buy the Book
---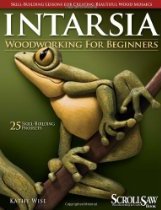 Skill-Building Lessons for Creating Beautiful Wood Mosaics
Although intarsia - the assembly of various woods into a unified mosaic piece - is often perceived as a challenging, unapproachable woodcraft, this guidebook rejects that notion by describing the small, achievable steps, thereby offering crafters an easy entry-point into this rewarding art form.
Following a progression, this resource starts simply, teaching how to cut basic shapes and introducing sanding concepts, and then leads to more advanced skills, such as stack cutting and finishing techniques that add shading and grain to the mosaic masterpiece. Each step is organized into 17 total mini-lessons, including practice exercises ... »
Buy the Book
---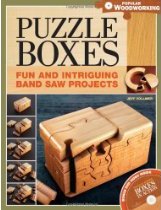 Fun and Intriguing Bandsaw Projects
The only way to make a more popular book on making boxes is to add a puzzle. And not just any puzzle, spring loaded, hidden drawer puzzles! These band-sawn puzzle boxes have it all. The book takes two, popular small-project styles (boxes and puzzles) and combines them into some mind-blowing projects.
With a small amount of instruction and some practice, the reader will be able create amazing puzzle boxes using wood that would usually be thrown away as scrap. There are 12 projects of increasing difficulty, as well as a section on how to choose ... »
Buy the Book
---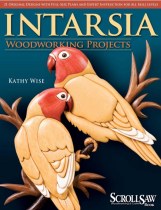 21 Original Designs with Full-Size Plans and Expert Instruction
Intarsia is made accessible to carvers of all skill levels through these eight progressive projects. Each project builds on the project before it, successively increasing in difficulty. From the simple to the complex, carvers learn the skills they need for a complete intarsia piece, including fundamental shaping and finishing, cutting from different pieces of wood, using a sanding shim, and accentuating details with woodburning techniques.
The culminating Hot Air Balloon project incorporates all the skills learned in the first seven projects. Color captions, materials and tools lists, and patterns with grain directions, wood tones, and shim placements ... »
Buy the Book
---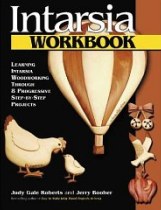 Learning Intarsia Woodworking Through 8 Progressive Step-by-Step Projects
Intarsia enthusiasts can get right to work with this array of more than 21 full-size patterns suitable for a wide range of skill levels. Displaying an artistic style of woodworking that focuses on nature, the outdoors, and nostalgic scenes, these full-size patterns - bound into a pocket at the back of the book, no photocopy scaling necessary - include whimsical holiday animals, a classic rose, colorful lovebirds, a lighthouse scene, and a farm scene.
A brief, getting-started section provides hints on which types of wood and blades to select as well as how to shape pieces, guiding those new to intarsia or serving as a quick refresher for more seasoned ... »
Buy the Book
---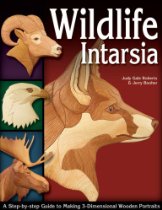 A Step-by-Step Guide to Making 3-Dimensional Wooden Portraits
Intarsia - a mosaic of wood fitted and glued into a wooden support and popular in 15th-century Italy for decoration - is the focus of this guide. Scroll sawyers of all skill levels learn the secrets of creating these fascinating wooden inlay projects by using a scroll saw and other common woodworking tools.
Fourteen portraits of North American wildlife, including an eagle, a mustang, an owl, and a fox, are provided. Chapters address the necessary steps to get started, including wood choice, pattern use, backing, and sanding, while also covering more complex issues ... »
Buy the Book
---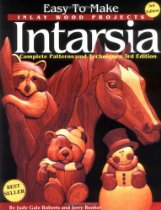 Intarsia : Complete Patterns and Techniques
Intarsia refers to the ancient art of wooden mosaics-making pictures in wood. The authors have taken this art form and adapted it for today's woodworker.
Using easily available woods and common woodworking tools such as scroll and band saws, the average woodworker can produce beautiful wooden reliefs through step-by-step instruction. The included patterns range from large, majestic portraits and murals to small jewel-like mosaics. Full-color photographs illustrate the beautiful and intricate work possible in the realm of intarsia. ~ © Amazon.com ... »
Buy the Book
---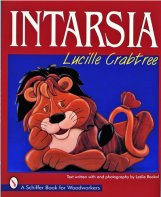 A Schiffer Book for Woodworkers
This book presents a large-scale project for intarsia enthusiasts - a lazy lion stretched out in the sun. Detailed, step-by-step instructions will explain how to select varieties of wood, use a pattern, cut and shape pieces, fit them together precisely, and finish your piece. Crabtree gives many insiders secrets for making sure that your pieces align correctly, and for choosing the best contours and finishes.
While even a novice to intarsia will find that Crabtrees tips make their projects fit better and look more professional, this book is absolutely necessary for anyone who wishes to move on to more advanced techniques ... »
Buy the Book
---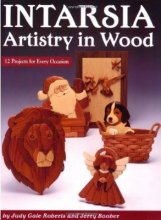 12 Projects for Every Occasion
Join Judy Gale Roberts as she explores the craftsmanship and creative potential of Intarsia - the art of making picture mosaics in wood. 12 beautiful projects - perfect for the home and as gifts - are presented inside with complete instructions, patterns and color photographs of the finished projects.
These are all-new projects - never before made available in book form. You'll use just the natural color and grain of the wood - no painting or staining required - to make these useful and decorative pieces. Cutting out each individual wooden piece is done on your scroll or band saw. Then, use the tested techniques ... »
Buy the Book
---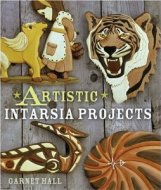 Techniques and Projects by Garnet Hall
This book takes the art of intarsia to new and exciting levels. Intarsia involves cutting different types and shades of wood into shapes and then assembling them to create an intricate design: the resulting piece is rich in color and appealingly dimensional.
With this guide in hand, beginners will have all the advice they need on cutting and fitting accurately, raising and lowering the pieces to get the look of relief carving, and shaping, sanding, and texturing the wood. The great patterns and projects feature a bright toucan on a branch, chicken ... »
Buy the Book
---

This page is a participant in the Amazon Services LLC Associates Program, an affiliate advertising program designed to provide a means for sites to earn advertising fees by advertising and linking to Amazon.com.