Search Amazon.com:


Woodworking Carving & Scroll Saw Patterns

Here are some great plan and pattern books for wildlife scroll saw, relief carving, wooden lock making and more - in association with Amazon.com ...
---
61 Captivating Designs for Moose, Bear, Eagles, Deer, and More ...
Bring North American animals to life with the exciting scroll saw patterns found in this book. Choose from more than 50 ready-to-cut patterns. Each pattern is drawn with crisp, easy-to-follow lines.
» Squirrels and Raccoons
» Rabbits and Moose
» Cougars and Rams
»
Buy the Book
---
More Pattern Books by Lora Irish ... ↓ ↓
---
More Pattern & Plans Books from Amazon.com
---
Ultimate Painting & Pattern Portfolio, Spiral Bound book ...
In this two-volume set, esteemed decoy and pattern maker Bruce Burk provides time and artist-tested patterns for 42 duck decoys. Similar in format, these companion volumes offer a wealth of patterns and techniques. Reference photographs taken from multiple angles help carvers familiarize themselves with the duck's actual features before they begin to carve.
Outline-carving patterns guide intermediate carvers through the basic carving procedures. Paint-mixing instructions help create each specific duck's unique coloring. Full-color painting patterns show both the flow of the feathers and realistic, lifelike colors. This exhaustive reference includes patterns for the Black Duck, the Golden-Eye Drake, the Mallard Hen, the Lesser Scaup, and the Wood Duck Hen ... »
Buy the Book
---
Bears, Wild Cats, Birds of Prey and other Predators from Around the World ...
Featuring dozens of wildlife patterns for scroll saw woodworking, this book goes beyond other pattern books by providing instructions for altering patterns so carvers can create a unique piece of art every time. Also included are helpful instructions on the basics of scroll saw woodcutting, as well as more difficult techniques like converting a traditional fretwork woodworking into a 3-D relief or fashioning a shadow box pattern.
Among the 91 exciting patterns provided are eagles, owls, cougars, bobcats, wolves, bears, and whales. Tips on how to build a display for newly completed pieces are also included ... »
Buy the Book
---
All the Locks featured can be made with Basic Woodworking Tools ...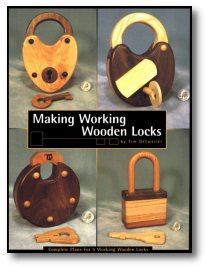 This guide to creating fully functional, working locks from wood includes step-by-step instructions, color photos, measured drawings, and advice on wood selection, tools, and finishing. Techniques for creating five different locks, including a combination lock, are also included.
Here is a book for all woodworkers who enjoy making moving, mechanically oriented objects such as puzzles, games, gears, and motors. All projects include step-by-step instructions, color photos, and measured drawings. They are aranged in order from least to most challenging - all will develop your woodworking skills and bring hours of enjoyment in the shop ... »
Buy the Book
---
Projects include Finishes or Decoration Options, plus Drawings and Patterns
This book is filled with 150 classic projects that every woodworker will want to own. It features an introductory section that walks readers through the various planning stages : selecting the right wood, working with patterns, gluing, and finishing. Novices can effortlessly make simple mirrors, shelves, clocks, and jewelry boxes, while those with slightly more advanced skills can try the small cupboard, blanket chest, or side table.
For outdoors, there are whimsical weathervanes, whirligigs, plants stands, and trellises. Some of the sweetest items are just for kids, such as animal pull toys, wheeled cars, puzzles, a winged rocking chair ... »
Buy the Book
---
Woodcarving Pattern Books from Amazon.com
---

This page is a participant in the Amazon Services LLC Associates Program, an affiliate advertising program designed to provide a means for sites to earn advertising fees by advertising and linking to Amazon.com.