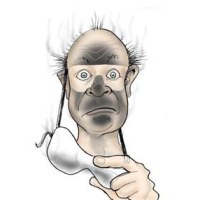 An Eye for Safety: Protective Eyewear
These days, it seems every tool you buy carries a warning label imploring you to wear eye protection when using it. And few of us routinely follow this advice. But don't wait to have a close call - or a painful and slow-to-heal eye injury - to start wearing safety glasses or goggles every time. Your second eye is not a spare part.
Before you choose eye protection, consider the following:
Eyewear that meets ANSI's Z87.1 specification can stop a projectile such as an errant nail, wood spun out by a table saw or a chunk of masonry debris without the lens shattering or frame breaking.
Safety glasses that aren't identified as meeting this ANSI standard, often termed "visitor glasses," may keep dust out of your eyes. But don't rely on them to stop significant impact.
Polycarbonate lenses, which are far more economical than glass safety lenses, scratch easily. Always wet-clean them and dry with them a soft, clean cotton cloth.
Comfortable fit matters: look for an adjustable model.
Your breath makes lenses fog over, particularly when you work hard. If you're also wearing a mask, it must fit well around your nose to avoid channeling your breath toward the glasses. Antifog coatings help, but they drive up the price and get scratched easily.
Get UV protection if you'll be working outdoors.
» Suggested Products:Here are the basic kinds of eye protection. Choose the right one for your work ...
The Concealer is a dual mold goggle that provides extra fog control and ventilation with an impact resistant lens. Its dual-injected rubber provides a soft, comfortable seal, while the cloth head strap provides for a comfortable, adjustable fit. Built-in ventilation channel provides extra fog control and ventilation, and the clip attachment allows for easy lens replacement.
» Protect against liquids entering the eye area
» Protects eyes from certain airborne particulates
» Protects eyes from chemical splash
» Chemical-resistant headband
Premium Chemical Splash/Impact goggle is designed to perform and look great. Sporty, ski-style goggle provides great protection, is extra comfortable and conforms to virtually any facial profile. Adjustable straps for secure fit and comfort
8" x 13-1/2" impact-polycarbonate clear full-face shield with visor. Fully-adjustable headgear for maximum comfort; easy flip-up shield with tension-adjust. Meets workplace safety regulations including ANSI Z87.1, CEEN 166 & CSA Z94.3. Essential safety tool protects face & eyes from debris, solvent/paint overspray. High-grade polycarbonate provides clear view with minimal distortion.
Professional-grade auto-darkening helmet with ultra-large 6" square view. User-selected variable dark-shades from 9 to 13; light shade 4. Automatic shield-darken reaction time of 1/10,000 second. Solar cell recharges internal Lithium battery-auto-darken works in all light conditions. Rugged impact-resistant polycarbonate, ratcheting comfort-ft headband.
Ideal for use with welding applications; Rigid 50 mm dual cup for optimal eye protection; Elastic headband helps the goggles stay in place for lasting protection; Number-5 shade shields against brightness; Compact design for easy, durable transport
---

---
| | |
| --- | --- |
| As a participant in the Amazon Services LLC Associates Program, we earn advertising fees by advertising and linking to Amazon.com. Thank you! | Search Amazon.com: |