Log Furniture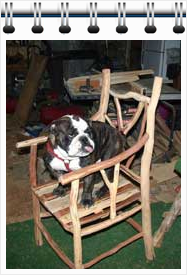 ... Modern Tools Make the Hard Part Easy
As Scott Sullivan of Lumberjack Tools is fond of saying, building rustic log furniture is something that the whole family can enjoy. But we often wonder if people really understand how easy it is to get started with this time-honored craft. Relying almost solely on a single, straightforward joinery method, making log furniture is something that just about anyone can pick up with a few hours practice. And with modern tools and equipment (stuff that our pioneer forbearers would have done just about anything to get their hands on) the process is fast and not in the least physically taxing.

Along with being an easy thing to get the swing of, making rustic furniture offers the opportunity to cover a lot of aesthetic territory, without having to learn how to make complicated shapes out of wood yourself. Nature has been busy for centuries stockpiling a huge selection of interestingly shaped and colored raw materials - all you have to do is fit them together. And to top it off, depending on your access to forestland, the cost of all of the nature-crafted materials that go into your projects will range from very little to nothing at all.
So, all you have to do is fit the parts together? Well, not exactly. There is some work involved. You have to cut the parts to size; you may need to peel off the bark and dry them; and you'll have to make the joints that hold the pieces together. The latter - the joint making stage - is where a couple of specialized pieces of equipment make all the difference.

The key to making durable and attractive furniture of any kind lies, of course, in the ability to make solid joints. Traditional log furniture construction relies almost entirely on a simple, round mortise and tenon joint. As an example, the ends of a chair legs are cut into a round shape (that's the tenon) and fit into a round hole (the mortise) in the bottom of the chair's seat. In days of yore, a chair leg tenon would have been made by whittling down the end of a log by hand until it was roughly the same shape and size of a mortise hand augured into a seat bottom. Fortunately, these days there's an easier way. In fact when it comes to the more demanding tenon-making part of the process, there are a couple of easier ways.
The most common type of log tenon maker in use today is often affectionately referred to as the "giant pencil sharpener" variety. And that, in essence, is exactly what it is. To use one, you simply chuck it up in a good-sized handheld drill and apply it the end of the log. The cutter has blades position to shave off all parts of the end of the log except for the desired tenon.

You'll find a few choices of manufacturers, if this is the type of tenon maker you decide to buy. We think those made by Lumberjack Tools have a number of features and qualities that make them standout examples. For starters, the body of every Lumberjack tenon cutter is machined from a solid billet of aircraft-grade aluminum, which makes for a tool that's virtually indestructible and also has excellent heat-sinking properties.

All Lumberjack cutters also feature the unique IN-SIGHT measuring system, which completely eliminates the need to measure and mark each individual tenon before cutting. A measuring scale on the side of the tool and two slots in the body let you simply watch how long the tenon is getting while you're cutting it, and stop when it's the right length. But the real key is the harmonically balanced dual-cutter design. The two resharpenable cutters cut twice as fast as a single cutter, and help to reduce heat buildup. When the cutters eventually wear down, they can be changed in just a few minutes with affordable replacement blades.
Rockler offers two Lumberjack Tenon Cutter models. The Pro Series Tenon Cutter is available in four sizes, and cuts a "classic" round-shouldered tenon. The affordability of the Pro line makes it a good choice for the weekend rustic furniture maker.

The Industrial Series Cutters make a 60 degree tapered tenon, and are designed for production-class log furniture making. They also offer the option of making "invisible" joints. When used along with the specially designed Lumberjack countersink bit, Industrial Series joints leave no part of the tenon visible, and consequently look like they "grew that way".
» Content ©
Rockler Woodworking & Hardware
---

---
---

We are an associate of the
Rockler Woodworking
affiliate program. We offer links to their products in exchange for a small commission.