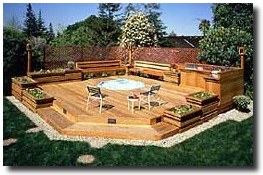 Decks allow you to live outdoors and yet be above it all: no need to worry about wet grass, muddy shoes or finding a level place to put your chair. They're great for entertaining and relaxing, they solve site problems and they greatly enhance the resale value of your home - right behind kitchen and bathroom remodels.

Best of all, you can build one in a few weekends and you don't need a lot of specialized equipment. You can get by with a good-quality circular saw, a framing hammer, a carpenter's square, an electric drill, a plumb bob, a 25- or 30-foot tape measure, a 4-foot level and a line level. With this gear, you can build a pro-quality deck.

No matter what scale your deck, design consists of six stages. The first one is to figure out what kind of deck you want to build.


» Collect Ideas
If you haven't done so already, start collecting pictures of decks with features you like: built-in benches, planters, distinctive railings, dining and barbecue areas, trellis designs and so on. Your local library can be a good source for deck design books; you'll also find up-to-date articles in home improvement magazines, especially in spring and summer issues. And don't forget to activate your deck "radar" when you're out driving around.

Once you start looking for decks, you'll be surprised at how many you find. Meanwhile, to give you an overview of the more common types, here's a portfolio of designs ... Next