As much as you love your pet, being its gatekeeper can be a drag. Cats in particular haven't quite figured out whether they want to be lions or lap animals, so they're continually in and out.
Made of plastic or aluminum, pet doors have a waterproof flap and a lockable panel to keep out unwanted visitors. So installing a pet door in an exterior door will give both you and your pet newfound independence.

Tools & Materials:

» Pet door
» Jigsaw or Keyhole Saw
» Screwdriver
» Hammer
» Duct tape
» Pencil
» Drill
» Bits
Installing a pet door in a wooden door is easy even for beginners because it requires minimal carpentry experience. A carpenter would charge about $80 to install a pet door for a medium-size animal, but you can buy the door and install it for less than $40.
Installation takes less than two hours, so it's a good project to tackle yourself. Cutting a hole in your door requires a little planning, but the paper template that comes with the unit makes it easy to lay out the cut.
If your door is made of steel or fiberglass, it's a better idea to hire a carpenter. He or she will have the heavy-duty saw and specialty blade required to cut through these dense materials.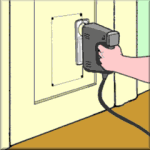 Step 2. Bore the corner holes:
Bore a 1/2-inch hole just inside each corner of the template so you'll have a starting point to insert your saw blade.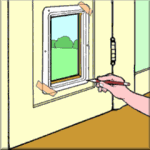 Step 3. Cut from hole to hole:
Use a jigsaw or keyhole saw to cut from hole to hole. After you cut three sides of the opening, apply duct tape across the cuts to support the scrap piece as you complete the cut.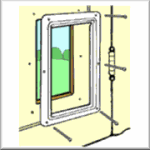 Step 4. Mark the bolt holes:
Use a torpedo level or tape measure to position the frame, then tape it in place. Mark the holes with a pencil, then remove the frame and drill the bolt holes (one bit-size larger than the mounting bolts' diameter) through the door.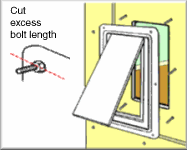 Step 5. Assemble the door:
Insert the mounting bolts though the inside frame, then the door, then the outside frame. Tighten all bolts finger-tight, then finish with an adjustable wrench. Saw off the excess bolt length with a hacksaw. Use a file or coarse sandpaper to remove any sharp burrs on the bolt ends.

If your pet resists using its new door, open the flap and tape it open. After a few days, lower the flap halfway. Gradually your pet will figure out that pushing the flap opens it.
» Hire a Pro
A carpenter can do the job in about an hour, including setup and cleanup. Since it's a small job, consider waiting to hire a carpenter until you have a list of similar carpentry work to make it worthwhile for both of you.