❈ Cigar Purse Boxes: Wood & Paper Maché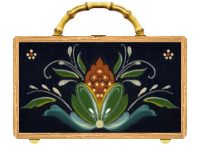 Many of you have shown an interest in crafting purse boxes out of unfinished cigar boxes. This is a artistic way to show off your painting and design talents. In association with
Amazon.com
, we have found a few options we think you may like ...
▸ 8⅜" x 8⅛" x 1⅞"
▸ Sold as set of three (3)
▸ Unfinished Wood
▸ Ready to finish
▸
View Larger Image

Make your own fun and unique Cigar Box purse. Start with this Unfinished Cigar box and then make sure to grab all your hardware and embellishments to end up with a gorgeous purse!

▸ Ready for paint or fabric covering
▸ Box measures: 7⅝" x 7⅛" x 2½"


▸ 7½" x 2¾" x 5"
▸ Sold as pack of twelve (12)
▸ Paper Mache
▸ Ready to finish
▸
View Larger Image

Ideal surface for decoupage, trims, applique, embellishments, photos, and more.

▸ Lightly Laquered
▸ Made up of Pine wood
▸ With Hinges and Latch
▸ Basic Cigar Box design
▸ Approx: 8½" x 8½" x 1"


---
Decorate as a cigar purse box or use it as a craft project.

▸ Hinged with latch
▸ Sanded smooth
▸ Ready to stain, paint or decorate
▸ Measures: 8¼" x 8⅛" x 1¾"


---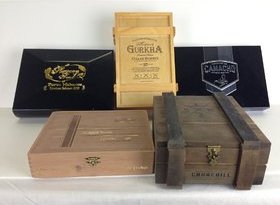 ▸ Set of Five (5) Boxes
▸ Not Paper Covered
▸ Selection will vary
▸ See alternate image



---
❈ Purse Box Reference Books:
---

We are a participant in the Amazon Services LLC Associates Program, an affiliate advertising program designed to provide a means for sites to earn advertising fees by advertising and linking to
Amazon.com
.