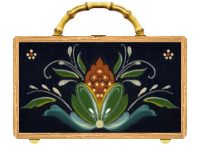 Wood Cigar Boxes
Many of you have shown an interest in crafting purse boxes out of unfinished cigar boxes. This is a artistic way to show off your painting and design talents. In association with Amazon.com, we have found a few options we think you may like ...
---
Decorate as a cigar purse box or use it as a craft project.

» Hinges and latch are included
» Sanded smooth; Ready to stain, paint or decorate
» Measures: 8 1/4" x 8 1/8" x 1 3/4"


---
Make your own fun and unique Cigar Box purse. Start with this Unfinished Cigar box and then make sure to grab all your hardware and embellishments to end up with a gorgeous purse!

» Basic design, ready for paint or fabric covering
» Box measures: 7-5/8" x 7-1/8" x 2-1/2"


---
Ideal surface for decoupage, trims, applique, embellishments, photos, and more.

» Measures 8-1/2" L x 8-1/2" W x 1-4/5" H
» Made up of Pine wood
» Comes with Hinges and Latch
» Basic Cigar Box design
» Lightly Laquered


---
Create a memory box like no other! Fill with silk or dried flowers, use as a purse, or craft container for gift giving. Ready for embellishing with paint, decoupage, stickers, fabric, felt, scrap ribbons and trims, photos ...

» Ready to decorate - make it your own!
» Box measures: 10" x 8" x 3"


---
This is a vintage wooden cigar box in good condition. The front says Flor Fina 8-5-8. On the inside of the lid there is a picture which you can see in the pictures.

» The box has dovetail joints
» Measures 6-3/4" L x 4-1/4" W x 4-1/4" H
» No Tobacco or cigars are included


---
» Set of Five (5) Empty Cigar Boxes
» Not Paper Covered
» Selection of Boxes will vary from shown
» No inexpensive slide top included
» See alternate image


---
This is a lot of 10 (ten) beautiful solid wood cigar boxes, the popular "Short Story" brand from their premium Hemingway line. These are real, high-quality, hand-made cigar boxes that once held cigars. They make great gift boxes, perfect for crafts: cigar box purses, banks, jewelry boxes and more.

These cigar boxes are vaguely trapezoidal in shape, and measure 7 3/4" wide at their widest point, 4 3/4" high and just over 2 3/4" deep. They are emblazoned with the famous Arturo Fuente insignia, as shown in the listing photos.


Please note that these are real cigar boxes that once held cigars - they may have some labels and stickers, as well as minor scuffs, dents, labeling or marks left over from their previous life.
---
Purse Box Reference Books:
Search Amazon.com:
---
PLEASE NOTE:
This page is a participant in the Amazon Services LLC Associates Program, an affiliate advertising program designed to provide a means for sites to earn advertising fees by advertising and linking to
Amazon.com
.