» Measures: 18" H x 29" W x 19" D
» More info / Buy Now
Ships partially assembled. Includes an American made safety lid support that prevents the lid from falling. The slatted curved top gives this keepsake piece a distinctive look. Made by hand of solid Knotty Pine. Assembled with screws, glue and a continuous hinge to last a lifetime. You can stain and finish yourself to match your décor.
❈
Little Colorado
is well known for high quality American made toy boxes. Every product is thoroughly tested for compliance with ASTM standards and the new Consumer Product Safety Improvement Act. »
View All Treasure Chests
» Measures: 19" H x 30" W x 20"
» More info / Buy Now
Pictured in natural finish. Slatted curved top. Front panel has additional finger safety cutout and hand holds are cut into sides. Built with an approved safety lid support that prevents from ever falling. Warranty: On year limited. Made from solid knotty pine wood. No assembly required.
❈ You may also like ...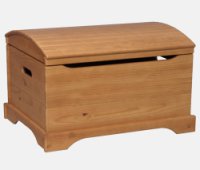 ▸ Made in America by Little Colorado
▸ Ships Fully Assembled
▸ Safety Lid Support
▸ Continuous Hinge
▸
View Larger Image

---

---

We are a participant in the Amazon Services LLC Associates Program, an affiliate advertising program designed to provide a means for sites to earn advertising fees by advertising and linking to
Amazon.com
.