❈ Unfinished Soap Mold Boxes
These soap molds are all hand-crafted by "Designcraft Industries" in their Tennessee shop ~ ready to use right out of the box.

---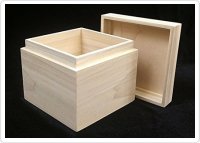 ▸ Unfinished ⅜" Poplar
▸ 1 lb Soap Mold Box
▸ 3½'' x 3½'' x 3" H (ID)
▸ Mitered Corners
▸ Interlocking Lift-Off Lid
▸ Sanded smooth


More Unfinished Boxes ~ by Designcraft Industries

❈ From Designcraft Industries ...

Our soap molds are all handmade in our shop in Tennessee. We carefully cut and sand all the inside surfaces of your soap mold to make everything nice and smooth. Then we glue everything together and let the glue set up. And finally we carefully cut the lid off, router the top and sand the outside smooth. Your mold will arrive bubble wrapped and well protected from damage. Ready for you to use right out of the box.
---

---

We are a participant in the Amazon Services LLC Associates Program, an affiliate advertising program designed to provide a means for sites to earn advertising fees by advertising and linking to
Amazon.com
.