DIY Unfinished Pre Cut Speaker Kits
Knock-Down (KD) Systems in association with
Amazon.com
...
Hailed by DIYers as one of the best reasons to build your own! Never before has a speaker kit made such an impact in the DIY speaker building community. Designed by Curt Campbell, the TriTrix MTM set standard for performance on a budget.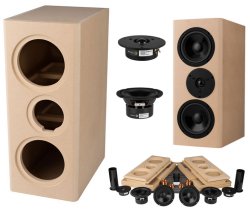 ▸ Delivers a natural relaxed sound with flat smooth response
▸ Compact ported enclosure design for extended bass response
▸ Easy to assemble with minimal tools
▸
View Larger Image

The ¾" MDF construction utilized by the TriTrix knock-down cabinets ensures maximally damped enclosures to prevent annoying resonances that color the sound.

Precision CNC cuts offer accuracy comparable to the craftsmanship of a master woodworker - maybe even better! Wood screws included. Sold in pairs. The speaker cabinets ship unassembled, but are simple, quick, and easy to construct by simply following the instructions.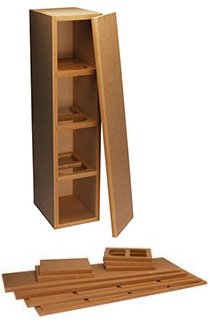 Build your own tower or large format center channel speaker with this CNC-cut cabinet.

▸ Acoustically inert MDF panels for precise fit and finish
▸ 1.16 cu. ft. internal volume
▸ Assembles in minutes
▸ Made in the U.S.A.
▸ View Larger Image



Pyramid Car Audio prides itself as being the most affordable solution to car audio. Not only do they make top of the line car audio products but also the boxes to hold them. The PMB59MT features two 6x9 speaker boxes that are carpeted for a finished look.
Details include:
▸ 200W Max
▸ Carpeted Wood Construction
▸ Terminal Cups
▸ Complete Pair Per System
▸ 8¾" H x 11¼" W x 5½" D

---

---

We are a participant in the Amazon Services LLC Associates Program, an affiliate advertising program designed to provide a means for sites to earn advertising fees by advertising and linking to
Amazon.com
.