Unfinished Wood Craft Boxes
... in association with
Dick Blick Art Materials
---
Genuine alderwood provides the perfect substrate for just about any embellishment, including mosaics, tiles, and paint. This box can be used as a keepsake box for jewelry or precious memories.

» Box top includes a 4¼" x 4¼" decorative surface
» Overall dimensions: 5" x 5" x 1¼"
---
---
This solid wood art Gessobord shadow box is pre-primed with premium gesso on the inside. Each box is 2" deep, so they're great for dioramas, installations, and three-dimensional painting. Shadow Boxes are also archival and accept all types of faux paints and finishes.

» 6" x 6" Shadow Box
» 8" x 8" Shadow Box



For more great room accents, custom paint the shadow box to house a special piece of memorabilia or place candles inside. Walls of the shadow boxes are ½" deep. Shadow box interior dimensions are 1" smaller than the sizes shown below.
---
Each Claybord hinged box is completely customizable and includes Ampersand's signature Claybord smooth surface on the lid's exterior and unfinished wood sides.



Decorate the top with any water-based paint, or try collage, photo-transfer, or other decorative techniques.

Boxes are 3" tall, measured on the outside. Hinges are packed inside for attachment later. This style is perfect for home décor, or as an artful gift.

» 5" x 5" Hinged Box
» 5" x 7" Hinged Box
---
---
This charming paper mache trunk is ideal for storing miniature treasures. Decorate it with papers, paints, stencils, or embellishments - the possibilities are endless!

» Each trunk measures 3¾" H x 3" W x 4⅞" L
» Each trunk has an attached lid
---
---
---
---
PLEASE NOTE: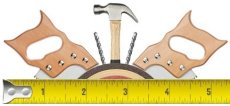 We are no longer building custom boxes and other woodcrafts. We have retired our shop in Arizona. But we do offer a variety of wood craft products for the DIY woodworker. The above items go to pages with associate links for products we think you will find interesting and helpful. Sale of these items provides a means for us to earn income by advertising for Blick Art Materials.