❈ Multicraft Imports Discount Box Sets
Decorate and personalize these wood boxes! Each package contains one small box, one medium box and one large box ... in a variety of shapes.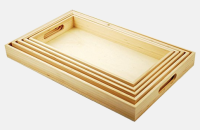 ▸ Set of 5 Nesting Trays
▸ Use Paint, Decoupage, Stencils, Beads, Fabric
▸ Each has ¼" thick x 1½" high walls
▸ Sizes range from 6⅝" x 13" to 10⅛" x 16⅛"
▸ Mitered Corners w/ Handles
▸
Buy @ Amazon.com

We are a participant in the Amazon Services LLC Associates Program, an affiliate advertising program designed to provide a means for sites to earn advertising fees by advertising and linking to
Amazon.com
.