Apothecary Style: Multimedia Storage Cabinets
Store, organize, and catalog your vast media collection with one of these handsome wooden CD cabinets! Each apothecary-style media chest features twenty-four side-by-side storage drawers, resembling a library catalog chest.
▸ Handcrafted of Solid Oak
▸ Overall Size: 39½" H x 27⅛" W x 9⅜" D
▸ Finishes: Oak, Cherry, Walnut, Espresso
▸ Comes with 24 Drawers
▸ Inner Drawer: 5¾" H x 5" W x 7½" D
▸ Vintage-style handles
▸ Drawer labels are included
▸ Holds 456 CDs, 96 VHS, 192 DVDs
▸ Free Shipping!

Library Card File Media Cabinets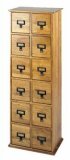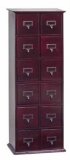 ▸ 12 Drawer Solid Wood Construction
▸ Includes Organizer Labels
▸ Stores 228 CD's, 96 DVD's and 48 VHS Tapes
▸ Retro style w/ Brushed metal door pulls
▸ Approx. Size: 14½" W x 9½" D x 39½" H
▸
Oak Finish
▸
Cherry Finish
---
This free script provided by JavaScript Kit
---

We are a participant in the Amazon Services LLC Associates Program, an affiliate advertising program designed to provide a means for sites to earn advertising fees by advertising and linking to
Amazon.com
.