The wide base on our acclaimed Sure-Foot clamps prevents the old "domino effect" so common with ordinary bar clamps. Generous height allows free movement of the handles without having to overhang the edge of the bench.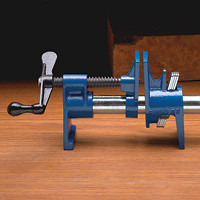 » Extra-wide 2½" foot provides exceptional stability and prevents tip-over during setup. It won't rock on uneven bench surfaces!
» Higher base raises the pipe 1½" above table to allow for greater handle clearance, so you won't have to position clamp handle off the edge of a bench.
» Clamping face includes holes for mounting pads, cauls, jigs and specialty fixtures.
» Built-in clamp hook eliminates need to "clamp the clamp" when hanging on wall.
» Four clutch-plate design provides secure, no-slip lock for the tail stock on standard ¾" black pipe.
---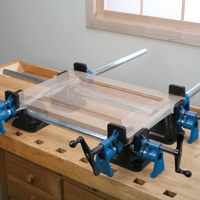 Blocks can be fixed to bench or work surface to eliminate movement during clamping and prevent rotation when not clamped.

Features include:
» Holds ¾" pipe at 90° for doors and frames.
» Tightly grips pipe to prevent heads from falling over.
» With mounting holes for fixed jigs.
» Space provided for clamp head clearance.
» Fiberglass reinforced plastic.
---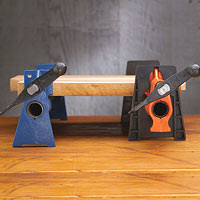 Convert your old 3/4" pipe clamps to the same height as Rockler's wide-base Sure-Foot design. Pads give you a wider base to prevent tipping and raise clamp higher off bench for greater handle clearance.

Features include:
» Converts Pony-style 3/4" pipe clamps to Rockler's wide base Sure-Foot design to prevent tipping
» Raises clamp higher off bench for greater handle clearance and to match Rockler's Sure-Foot clamps
---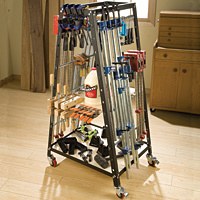 More than just a clamp rack, this is a full-service mobile work station and storage solution! Load both sides to the hilt with clamps, and use the interior space to store everything from air compressors to dust collectors. Four included hooks make it simple to install a shop-made storage shelf, while four high-quality polyurethane casters let you roll the entire rig anywhere in the shop.

The heavy-duty 5/8" diameter steel rods are strong enough to hold a full row of clamps and simultaneously support a shelf filled with tools. The steel rods can be repositioned in 13 mounting holes. Solid steel construction for maximum strength and stability.
---
---

---

As an associate of the
Rockler.com
affiliate program, we receive a small commission for sales generated through links to their products. Thanks for shopping!
---