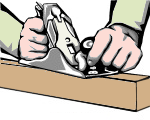 Woodworking Tools: Hand Planes
The block plane is one of the oldest hand tools. Using a wood plane is perhaps the purest expression of the woodworking arts. Powered by muscle, the block plane imposes your vision and forces your will on the wood. Woodworkers covet their wood planes and hand them down from generation to generation.
---
The WoodRiver No. 92 is the result of two years of extensive prototyping and testing to develop a classic look for a plane that works as good as it looks.
» For tweaking tenons, rabbets and dados
» Sides square to sole
» Classic look and feel
» Adjustable Mouth for Minimizing Tear out
---
Light enough to use for longer periods, but has plenty of heft to slice through difficult grain without stopping.
» 2-7/16" W x 9-7/8" L with 2" W blade
» Feature the same heavy castings (5 lbs)
» Fully machined frogs
» Lightly finished Bubinga handles
» Require minimal tune-up prior to use
» Soles and sides are machined flat and square
---
The WoodRiver® V3 No. 4-1/2 Bench Hand Plane is 2-7/8" wide, 10-3/8" long, has a 2-3/8" blade, and weighs just over 6 lbs.
Commonly referred to as a smoothing plane, the No. 4-1/2 offers the user more heft, size and a larger tote than a traditional No. 4.
Features include soles and side machined flat and square, lightly finished Bubinga handles, and minimal tune-up required before use.
---
This handy tool is perfect for cleaning up rebates and grooves, ensuring a proper fit.
The plane's precisely machined body is manufactured from 40cr tool steel with a reversible, adjustable depth stop and features T10 steel blades hardened to RC59-63.
The front of the plane is easily removable for conversion to a bull nose configuration for corners and stop dados.
---
---
PLEASE NOTE:
We are a participant in the Amazon Services LLC Associates Program, an affiliate advertising program designed to provide a means for sites to earn advertising fees by advertising and linking to amazon.com.