Interlock Sign Making ~ Template Sets
Creative Routing: Router Attachments
in association with Rockler.com
---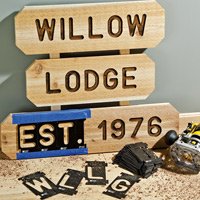 Recommended for use with plunge routers, produce countless enduring, classic signs with thee "State Park" Font Sign Making System. These letter templates feature adjustable kerning for the most natural-looking layout of your text.

Kits are available in two different heights and include 99 template pieces (letters, numbers, symbols, and kerning spacers). Included brass guide bushing is a vast improvement over the plastic bushing that was included with previous Rockler Sign Making Templates.
| | | |
| --- | --- | --- |
| Each kit includes 99 pieces in total (letters, numbers, symbols, and spacers). | Templates attach easily with painter's tape, discs, or double sided tape. | Kerning Spacers eliminate awkward spacing; ensures natural looking text layout. |
---
The templates interlock to form a stable pattern as you rout signs with appropriate carbide router bits and bushings (3/8" for 2-1/4" kits).

Secure patterns to your work surface with masking tape, Self-Adhesive Discs, or double stick tape (sold separately).

» Click here for options
Each Letters Kit includes a total of 40 letters with duplicates of common letters and three spacers. Each Numbers and Symbols Kit includes two each of 0-9 and 9 common symbols including @ and &. Requires the use of a plunge router that accepts standard 1-3/16" template guides. All Interlock Signmaker's Templates now include free plastic guide bushings that will fit most router bases.
---
Set up takes only a couple of minutes and is virtually math-free.
Designed for use with just about any plunge router, the Rockler Ellipse/Circle Router Jig lets you cut circles and ellipse shapes over a wide range of dimensions and proportions.

Using the jig is just as easy. As you move the router through the cut, the jig's sliding dovetail mechanism keeps the router precisely on the cut line.

Maximum length for major axis is 52"
Maximum difference between minor and major axes is 8"
Includes jig arm, jig base, two dovetail keys, and two locking pivots
Single pivot can be locked to make circles up to 52" diameter
Pre-drilled for Porter-Cable 690/890 routers or routers with 6" base footprints
Made from 1/4" thick phenolic for durability
---
---
---
Repetitive flutes are a great way to add style to columns, molding or furniture parts, but machining them can be a true test of patience.
Fortunately, this innovative jig makes it fast and easy to rout perfect flutes with even spacing - every time. Two low-friction, underside rails straddle your workpiece, allowing the jig to slide smoothly along boards up to 8'' wide. The router mounts to a pre-drilled acrylic centerpiece, which slides laterally to rout out flute after flute. Scales on the centerpiece and writable/erasable indexing surfaces make setup simple.

» View Larger Image
---
---

---

As an associate of the
Rockler.com
affiliate program, we receive a small commission for sales generated through links to their products. Thanks for shopping!
---