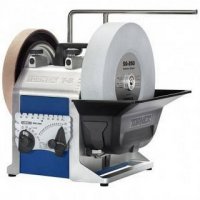 The industry's gold standard for water-cooled sharpeners - features a fully cast frame for rigidity, and geared lift mechanism for the water trough ... in association with Rockler.com

The T-8 improves on its widely acclaimed predecessors with a fully cast housing for improved rigidity and minimal play on the universal support. Additionally, its large water trough features a geared lift mechanism that lets you easily raise and lower the water trough to minimize splashing and provide easy access to the grindstone. Thanks to water cooling and a slow running speed, you get better control over the edge, without the risk of ruining the temper. Since the wheel is continually immersed, there are no sparks, and thanks to the quiet, vibration-free motor, sharpening becomes a pleasant task. The grindstone can easily be changed from fast grinding to fine sharpening using the Stone Grader.
What's included:
(1) Tormek T-8 Sharpening System
(1) SE-77 Square Edge Jig
(1) TT-50 Truing and Dressing Tool
(1) SP-650 Stone Grader
(1) WM-200 AngleMaster
(1) PA-70 Honing Compound
(1) HB-10 Handbook
(1) Tormek DVD
Features include:
» Fully cast housing improves rigidity and reduces vibration for greater accuracy
» Geared lift on water trough lets you raise the trough tightly up to wheel with the turn of a dial
» Included SE-77 Square Edge Jig accepts blades up to 77mm or 3'' in width
» Truing and Dressing Tool with micradjustable screw feed
» Features dual knobs for smooth feed across the stone
» Stainless steel hardware prevents rust and wear on bearings
---
---

---

As an associate of the
Rockler.com
affiliate program, we receive a small commission for sales generated through links to their products. Thanks for shopping!
---