Keller Dovetail
Journeyman DoveTail Jig Systems
No more complicated, difficult adjustments or wasted wood that other router jigs may require.

Using the Keller Dovetail System is both profitable and enjoyable! The Keller Dovetail System is precision machined to industrial standards for accurate and consistent joinery.

Whether you're building a simple wooden box or multiple drawers, a jewelry box or a large toy box, you will find the setup and operation of the Keller dovetail jigs to be easy, hassle-free, and quite enjoyable.

In no time at all you will be ready for gluing and assembly.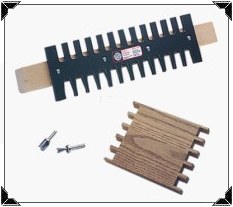 This dovetail jig is an economical choice for the beginner or hobbyists doing small to midsize projects.

It can cut classic, variable-spaced, acute, obtuse, compound-angled, and curved dovetails, as well as box and knuckle joints.

Your jig purchase includes a phenolic guide, standard dovetail bit, straight bit, ball-bearing template guides, and fully illustrated instructions.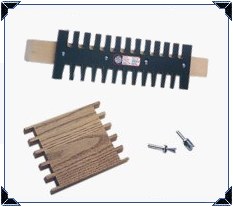 The back-to-back model handles wood 1/8" to 3/4" thick of any width with a single template precision-milled from phenolic plate.

It can cut classic, variable-spaced, acute, obtuse, compound-angled, and curved dovetails, as well as box and knuckle joints.

Your jig purchase includes a phenolic guide, standard dovetail bit, straight bit, ball-bearing template guides, and fully illustrated instructions. MORE INFO / ORDER HERE