What is a Buckboard?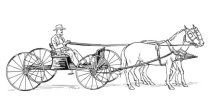 The buckboard is a four-wheeled wagon of simple construction meant to be drawn by a horse or other large animal. It is steered by its front wheels, which are connected to each other by a single axle. The front and rear axle are connected by a platform of one or more boards to which the front axle is connected on a pivoting joint at its midpoint.
---
Decorate it for every season! It can be easily moved, but is not designed for carrying people.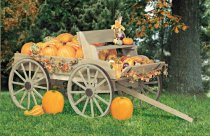 ⦿ Complete paper pattern to make the original design shown
⦿ Great for the DIY weekend woodworker
⦿ Make this fantastic looking project yourself
⦿ Approx 46" H x 78 ½ L
⦿ Easy painting & assembly instructions included


---
Old-time buckboard styling and a weathered finish give this cart the instant appeal of a cherished antique! Real rolling wheels add a charming touch and allow easy access to move things around your garden.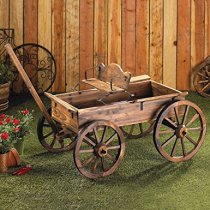 ⦿ Buckboard styling in a lovely rustic finish
⦿ Weight: 28.7 lbs
⦿ Measures: 64" x 37 ½" x 26 ½" High
⦿ Wood: Fir wood
⦿ Finely crafted antique looking wooden wagon
⦿ Cart gardening & landscaping materials around
⦿ Enhances the elegance of any yard or garden
⦿ Great gift idea to any gardening enthusiast
⦿ Some Assembly Required


---
This wagon is made from half of a wooden apple barrel, and the wooden wagon wheels that are expertly crafted.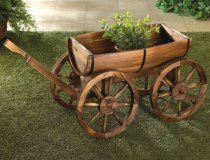 ⦿ Material: Fir wood
⦿ Plant not included
⦿ Some Assembly Required
⦿ Dimension: 47 ¾" x 20" x 24 ½" high
⦿ Item weight: 23.6 lbs


---
Plant a variety of items in the cool garden wagon design. It features a working handle and 10.6" wheels with an antique look that stays up to date from season to season.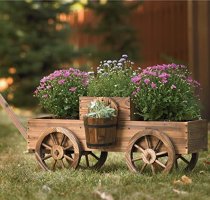 ⦿ Material: Rugged Cedar
⦿ Burnt finish for antique look
⦿ Use as working planter or as a display
⦿ Capacity: 110-lb.
⦿ 5 Separate compartments for planting
⦿ Some Assembly Required
⦿ Dimension: 39" L x 19" W x 17" H


---
The open back design makes cleaning up toys fun and easy for kids. Imaginations can run wild using the wagon as a stage coach full of gold, or as a pioneer's wagon -- try placing the wagon behind a favorite rocking horse which can "pull" it.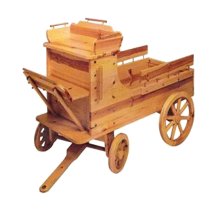 ⦿ Measures: 50" L x 36" H x 24" W
⦿ Simple to follow plans
⦿ Full size patterns for curved pieces
⦿ List of materials you need
⦿ Photos and a set of instructions
⦿ For any skill level of woodworker


---
Winfield™ Woodworking Plans & Patterns
---

This page is a participant in the Amazon Services LLC Associates Program, an affiliate advertising program designed to provide a means for sites to earn advertising fees by advertising and linking to
Amazon.com
.