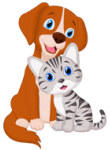 Dog Toys ~ Cat Trees ~ Pet Beds ~ Feeders
We love our pets and want the best for them. Amazon.com offers tons of great pet supplies all under one roof. Whether you're a dog lover or a cat lover, they have beds, toys, feeders and more ...
---


This page is a participant in the Amazon Services LLC Associates Program, an affiliate advertising program designed to provide a means for sites to earn advertising fees by advertising and linking to
Amazon.com
.