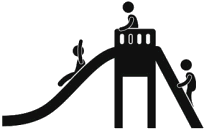 ❈ Outdoor Fun Activity Sets
Shop
Amazon.com
for Naturally Playful® Swing Sets, Playhouses, and Sand Tables that stand out by blending in. Your children will enjoy the multiple play features, and you'll love the natural colors.
---
This gym set will provide your youngsters with hours of climb and slide adventures. Kiddos can increase their balance and coordination by climbing into the playhouse, sliding down the slide and swinging on the swings.
Little explorers will be fascinated by the vibrant colors and outdoor play features that this kid's gym set includes. The Play Up Gym Set combines a swing set and playhouse into a whimsical backyard jungle gym!.
---
---
Climb, slide and spy in this elevated playhouse. The Lookout Treehouse features a spacious 19"H platform with a pivoting periscope that really works and large, easy-to-climb steps.
The durable slide makes for speedy exits, and the "shingled" roof offers shade protection. Durable, maintenance-free construction.
Adult assembly required. Measures 66.5" L x 25" W x 57.5" H. Holds up to 75 pounds.
---
---
A durable, sturdy traditional slide that accommodates children age 18 mos and up.
High side rails and sure-grip handles provide a sense of security and assist child while climbing.
Its unobtrusive design blends with tradional landscapes in residential outdoor living areas. the slide weighs 30 lbs and easily folds for transport and storage.
---
This free script provided by JavaScript Kit

Please Note: As a participant in the Amazon Services LLC Associates Program, we earn commissions by sales generated from links to
Amazon.com
.