❈ Shop Dust Collection ~ Dust Collectors & Accessories
Don't have a dust collection system in your shop? Now's a great time to start ...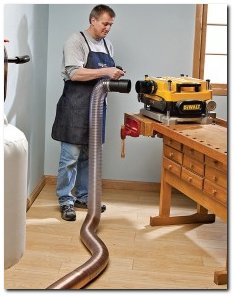 For many hobbyists and home-shop woodworkers, such systems seem like a luxury - the last tool to be bought. But more and more of us are beginning to take dust seriously. That's a fact that the tool industry now recognizes.

Very few woodworkers do their best work while kicking through mountains of shavings and coughing out a cloud of dust. Once you have a dust collection system installed, it will do a lot of the shop clean-up for you - while you work, not afterward.

Being aggressive in cleaning dust from the air in your shop doesn't necessarily mean you have to spend a ton on new equipment. Whatever the size of your shop, and whatever the type of woodworking you do, Rockler has a dust solution that's just right for you.
---
The innovative Dust Right® line includes a wall-mounted dust collector that provides plenty of suction without taking up floor space, expandable hose that stretches to seven times its storage length and all the couplers, adapters and accessories you need to bring dust collection to every corner of your shop.
The Dust Right® Wall Mount Dust Collector comes standard with a 15 gallon, 30-micron heavy-duty cloth bag that is easy to attach.
System Parts Include:
»
Dust Right® Wall Mount Dust Collector
»
Dust Right® Universal Small Port Hose Kit
»
Dust Right® Quick-Fit Multi-Port Tool Set
»
Dust Right® Quick Connect 4'' Elbow
»
Dust Right® 4'' Tool Ports
»
All Dust Collection Fittings
---
---
---

---

As an associate of the
Rockler.com
affiliate program, we receive a small commission for sales generated through links to their products. Thanks for shopping!
---