Align it, clamp it, and fasten it to get perfect 90° angles every time! Here's a solution that's so simple, you'll wonder why it took so long to develop!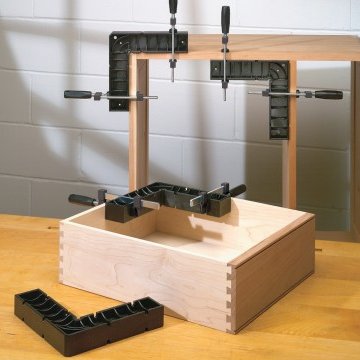 Rockler's exclusive Clamp-It™ square guarantees a 90° joint every time, replaces custom clamping jigs, acts as a third hand, and eliminates the need for long clamps! Simply put, the Clamp-It is a square you can clamp. It allows you to assemble any two pieces at 90°, and even lets you assemble a cabinet one corner at a time. It works with any joinery technique, from nails to hand cut dovetails.

Ideal for every stage of construction, from assembling plywood cabinets to face frames and drawers. Clamp-It™ is also perfect for framing decks and installing rails and balusters. Attach it to a work surface, and it becomes a right angle fixture for bench assembly.
Clamp-It™ is computer designed and manufactured from high impact, rigid polycarbonate to ensure strength and accuracy. Patented. Size of the Clamp-It™ is 8'' x 8'' x 1 - 1/2''.
Drawer assembly: Clamp-It™ is designed for use on either the inside or outside of a corner, making it ideal for assembling drawers with lipped fronts.
Deck Rails: Use Clamp-It™ to hold deck balusters at a perfect 90° angle while fastening.
Bench Jigs: Clamp-It™ can be secured to any work surface to create a simple 90° assembly jig.
---
---
---

---

As an associate of the
Rockler.com
affiliate program, we receive a small commission for sales generated through links to their products. Thanks for shopping!
---