Humidor Parts and Hardware
Hardware for the DIY Woodworker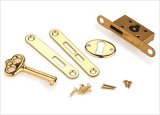 ▸ Gold plated
▸ Comes with screws and pins
▸ View Larger Image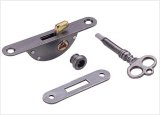 ▸ For jewelry boxes and humidors
▸ Dark bronze finish
▸ Strike plate, key and escutcheon
▸ View Larger Image

Features Include:
▸ Premium Cigar Humidors
▸ Pine Wood
▸ 100% solid Cedar lining
▸ Precision manufacturing
▸ Genuine leather case
▸ Small and convenient
▸ Stores up to 4 cigars
▸ Sponge humidifier
▸ Cigar cutter included
▸ Zippered Case w/ black gift box
▸ Embossed Cohiba logo on outside
▸ Portable Travel Cigar Humidor



» Side Rail Hinges (2 styles)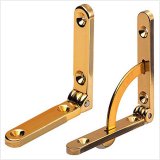 Side Rail Hinges are machined from 7/64" thick brass, are 5/16" wide and 1½" long. Sold in pairs. These hinges stop at 95° and are designed for medium duty applications.

Side Rail Hinges with Stays also stop at 95°. Machined from solid brass and coated with a non-tarnishing epoxy finish. Hinges have a 95° stop and are 1/8'' thick. Measure 2'' x 2'' x 5/16''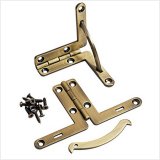 These elegant quadrant hinges are crafted from solid brass, and finished with an attractive antique hue that complements a variety or wood species and styles. Strong positive stop for 95° opening angle.

▸ Large Antique Quadrant Hinges
▸ Small Antique Quadrant Hinges
▸ View Larger Image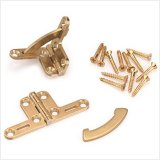 Engineered with a built-in stop that allows a lid to remain open at 95°. The arc is mortised into the side of the box, beneath the leaf.

▸ Quadrant hinge with a built-in stop
▸ Each leaf measures 1" x 1"
▸ Solid Brass
▸ Sold in pairs
▸ View Larger Image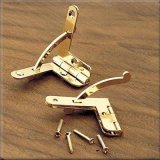 Great for small jewelry boxes or humidors. Gold plated hinge has 5/16" wide leafs with a 1-1/4" hinge pin and 1-11/16" leg.

▸ Gold-plated Quadrant Hinge
▸ Mounting screws included
▸ Sold in pairs.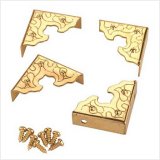 Economical, small-scale hardware for jewelry boxes, humidors, keepsake boxes, etc.

▸ Brass plated steel
▸ Screws included
▸ 25mm L (2 sides) x 9mm H
▸ Sold as a 4-pack
▸ View Larger Image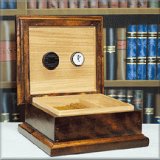 ▸ DIY plan
▸ Step-by-step instructions
▸ Full size traceable patterns
▸ Photos & diagrams
▸ Materials lists; Cutting schedules
▸ For all skill levels
▸ 13" W x 12" D x 6" H
---


We are a participant in the Amazon Services LLC Associates Program, an affiliate advertising program designed to provide a means for sites to earn advertising fees by advertising and linking to
Amazon.com
. Thank you!