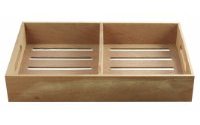 ▸ Adds storage versatility
▸ For humidor or walk-in
▸ Measures 7½" x 12½" x 2¼"
▸ Includes 1 adjustable divider


▸ Approx. 10 1⁄4" x 8 1⁄16" x 1 3⁄4"
▸ Includes 1 removable divider


▸ Measures 7" x 12" x 1.7"
▸ Includes 1 adjustable divider



---
❈ Humidor Hardware:

Thick solid brass, polished and coated with lacquer.

▸ Side Rail Hinges w/ Stays
▸ Side Rail Hinges w/o Stays
Top quality solid brass box hinge from Brusso. Combines hinging action and lid support. Excellent for humidor and small-box applications.
---
❈ Cigar Humidifiers & Hygrometers:
---

This page is a participant in the Amazon Services LLC Associates Program, an affiliate advertising program designed to provide a means for sites to earn advertising fees by advertising and linking to
Amazon.com
.