Imagination & Creativity
Automoblox is an award-winning legacy toy line consisting of modular wooden vehicles that encourage young minds to build cars and trucks of their own design. Each Automoblox car features the character and heirloom charm of a classic wooden toy, fused with an updated modern design.
---
---
Take off on an adventure of learning, building and playing with these modular marvels of engineering. Delight and inspire your child with toys that foster imagination and creativity. Introducing, the Automoblox® Toy Vehicle Kits!
---
Automoblox® Features Include: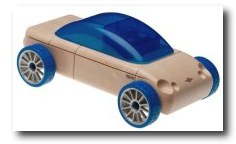 ▸ Unique modular design building system
▸ Lets kids design their own cars
▸ Each kit comes with 'little people'
▸ Spoke wheels and bright colored tires
▸ Pieces mix and match with other sets
▸ Part design, part construction toy
▸ Combines heirloom quality and old-world values with contemporary design
▸ Made of German beechwood and indestructible polycarbonate plastic
▸ Helps a child learn creative problem solving
▸ Teaches gross and fine motor skills, and visio-spatial processing
▸ Removable plastic connectors teach shape recognition and color matching
---
Changing Automoblox® Car Bodies and Creating Unique Designs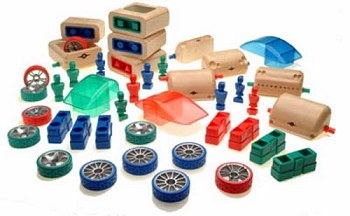 Every component in the Automoblox® system is interchangeable: wheels, tires, roofs and wooden bodies - everything. The possibilities are endless. Take apart your Automoblox® and spread them out because the sophisticated design appeals to the children in all of us. Whether your child is zooming across the kitchen floor, scaling rough terrain on the sofa or taking the gang for a scenic drive through the living room, going on an adventure is only half the fun. Creating the vehicle that will take you there is all part of the trip, a trip the whole family can take together.
---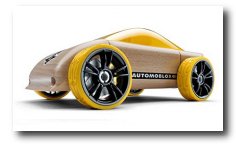 Each car in the series has its own unique VIN number, just like a real car. All cars can mix and match with others in the series to create your own unique ride. Made of solid wood with real rubber tires, plus the cars roll like greased lightning!
---
---
This free script provided by JavaScript Kit
---

We are a participant in the Amazon Services LLC Associates Program, an affiliate advertising program designed to provide a means for sites to earn advertising fees by advertising and linking to
Amazon.com
.