❈ DIY Woodworking Projects & Kits for Kids
Amazon.com has a wide selection of original woodworking kits as well as a complete world of tools specifically designed to suit a child's grip.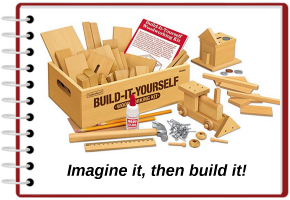 The Build-It-Yourself Woodworking Kit
includes a lightweight hammer, plus nails, a guide with instructions for multiple projects and more - all in a handy 7 ¾" x 12" box. Kit includes a total of over 80 pieces. These woodworking projects for kids teach and apply various skills according to the level of difficulty. Imagine it, then build it! Kids create project after project using smooth pine pieces in a wide variety of shapes.

▸ 6 Complete Projects
▸ 80 Pieces of Real Wood
▸ 2 Pencils and a Ruler
▸ Nails, Sandpaper, Glue & Hammer
▸ Easy to Follow, Detailed Instructions
▸ For Ages 8+
▸
View Larger Image

Woodworking Vehicle Kits:
These kits contains everything your young engineer needs to create a functional toy with moving parts. The wood parts are sanded and finished with predrilled holes for assembly. When your kid is done constructing the vehicle, he or she can use
This Paint Set
to finish it any way they want!
---
---
---
Red Toolbox is a new, groundbreaking concept in the world of DIY
, offering parents and kids the opportunity to spend valuable time together while learning new skills. The brand includes a wide variety of specially designed tools and exciting carpentry kits that let children and parents work, explore and create together. Work and play are intertwined, as the connection between parent and child is enhanced and strengthened through mutual activities that are challenging, educational and most importantly a whole lot of fun.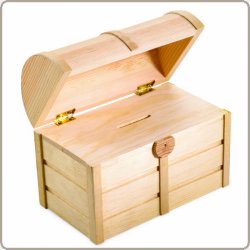 Fun woodworking project for kids and parents. Mini treasure chest can be used to store small trinkets. Comes with instructions and is easy to assemble. Tools required (not included): Glue, screwdriver, hammer.
Features:
▸ Made from Pine wood
▸ 6.3" H x 7.9" W x 3.5" D
▸ Included: sand paper, screws, nails, and hinges
---
---
Click boxes are fun woodworking projects for kids to put together with their parents, while learning how to use tools responsibly and creatively.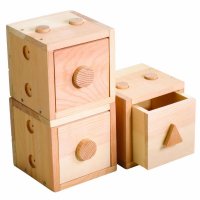 Made from pine wood and features interlocking shapes for fun stacking options. This project needs only a beginner's skill level, it takes stain and paint, plus mom will love it.
Features:
▸ Material: wood
▸ 8.6" H x 8.6" W x 4.3" D
▸ Includes: Wood pieces, fasteners, sandpaper, instructions
▸ Wood glue not included

---

We are a participant in the Amazon Services LLC Associates Program, an affiliate advertising program designed to provide a means for sites to earn advertising fees by advertising and linking to
Amazon.com
.