for the Do-it-Yourself Woodworker
Music and Jewelry Box Plans, Kits & Supplies
---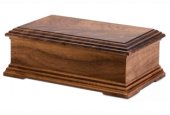 The complete kit is easy to assemble and includes pre-cut, unfinished walnut for the case, glass music movement cover, hardware and velvet jewelry compartment liner.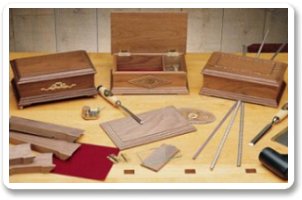 ▸ Easy to Assemble
▸ 9 ⅝'' x 6'' x 3 ⅜'' H
▸ Pre-cut Walnut for Case
▸ Plexiglas Cover
▸ Hinges and Screws
▸ Velvet Liner for Interior
▸
See Larger Image
▸
How to Assemble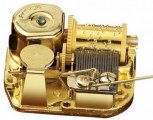 Please Note:
The
18 Note Musical Movement
is sold separately. Choose from "Blue Danube" or "Greensleeves". This particular box design requires that the music maker be activated by winding key only. However, if you prefer to have the music activated when opening the lid, you can omit the Plexiglas piece above the movement compartment.
---
▸ (2) Brusso Stop Hinges
▸ (2) Brass Tray Supports
▸ (1) Half-Mortise Lock
▸
View Larger Image
▸
Get the Hardware Kit
---
---
Hardware Supplies for Wooden Boxes
---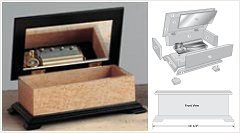 Make gift-giving memorable with gifts you hand-craft in your workshop! Although this music box plan looks complicated to make, it was designed so that even a novice woodworker can construct it. Get started now with a
FREE Music Box Plan!

Front and Side View
---
Build a music box for a great holiday gift! Our 2-in-1 plan makes it easy. Get two attractive music box designs in one plan! Both styles are designed to hold the 18, 30, 50 and 72 note musical movements.
▸ Design A: 3¾" H x 10½" W x 6½" D
▸ Design B: 4⅜" H x 10½" W x 6½" D
▸
More Info / Buy Now
---
This free script provided by JavaScript Kit
---

We are a member of the Rockler Woodworking affiliate program. By advertising their products on our web site, sales through these links will earn us a small commission.