for the DIY Woodworker!
Bed Lift Mechanisms ~ Under Bed Storage
(in association with Rockler Woodworking and Hardware)

Considering the amount of unused space under the average bed, it's no surprise that that's one of the most popular places to store things. But who wants to crawl around on all fours and deal with all the dust that collects there! These bed lift mechanisms solve both problems. With a single hand, anyone can lift the mattress platform to reveal vast amounts of storage, all fully visible, easily accessible and shielded from the dust that would otherwise collect on your items.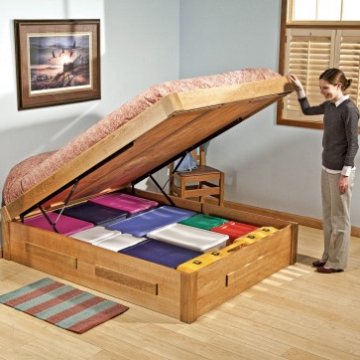 A pair of gas pistons provide lift for easy opening, and dampen the closing for safety. The simple two-piece design makes installation easy.

» Item #: 48038
110-lb. Bed Lift Mechanism, 36" L
» Item #: 49532
165-lb. Bed Lift Mechanism, 36" L
» Item #: 44475
210-lb. Bed Lift Mechanism, 48" L
» Item #: 48873
231-lb. Bed Lift Mechanism, 60" L
Technical Details:
Steel angle iron frame for rugged durability.
Includes two lift mechanisms, each fully assembled into a one-piece unit for easy installation.
Mechanisms can be oriented to open from the side of the bed, or the end of the bed.
Be sure to choose a mechanism with the appropriate length for your application.
Twin gas pistons provide easy access to your stored items.
Platform moves laterally as it lifts for easy access and clearance at the wall.
Designed to be used without a box spring.
Choose from End mount or Side mount application
Available in 4 weight ratings depending on the size and weight of your mattress and platform.
Materials for bed frame should equal or exceed 3/4" hardwood plywood and 4/4 hardwood lumber.
Use a 6" to 10" thick standard innerspring or foam mattress.
Wood components not included.
Mechanisms require indicated lengths to be mounted to the bed. It's important for proper function to choose the correct weight rating. To choose the correct weight rating, add the weight of your mattress to your platform weight. If you don't know your platform weight, use the following guide: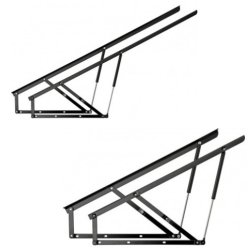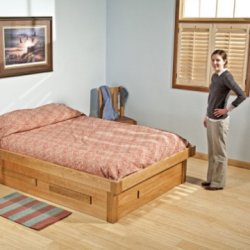 Twin-size Platform:
» 77 lbs
Full-size Platform:
» 100 lbs
Queen-size Platform:
» 115 lbs
---
---
---

---

As an associate of the
Rockler.com
affiliate program, we receive a small commission for sales generated through links to their products. Thanks for shopping!
---