The Scroll Saw

Woodworking Tutorial
© by Curtis Rist ~ in association with Amazon.com...
Search Amazon.com:

---
Cutting Curves
Bandsaws
and
jig saws
can cut curves, but as power tools they're fearsome and often dangerous to use. The scroll saw, by comparison, is a domesticated beast. Its strandlike blade, which is just 3" to 5" long, moves between two parallel arms that pulsate rapidly up and down through a hole in the cutting table. So gentle is the motion, however, that if you accidentally touch the blade with your finger, it probably won't even make a cut.
For this reason, the scroll saw is a delight for the hobbyist. It is a favorite for turning out thin wood panels known as fretwork that can be used for boxes or wall decorations, and for creating fancy details for brackets and even the Victorian gingerbread trim used on porches.
---

More info / Buy now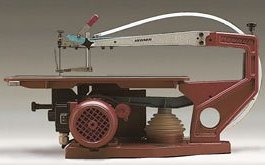 The Hegner 18" Variable Speed saw is compact, quiet, precise and versatile, lets you cut almost any material and make a wide variety of projects. The 18-V is Hegner's most popular model.
Hegner scroll saws are known for easy blade installation, long blade life, superb cutting control, smooth and quiet operation, accurate sawing, smooth edges without sanding, and unsurpassed reliability.
---
Choosing a Blade
Scroll saws
can be fitted with an assortment of blades that can cut everything from hard acrylic to bathroom tiles with ease, making it a good all-purpose saw - as long as the job is a small one. Scroll saw blades come in a profusion of styles and teeth sizes, and choosing one for a job often comes down to a matter of taste.
»
See all scroll saw blades
In general, precision-ground teeth are harder than regular blades, and rarely break.
Some blades cut only on the downstroke, but a reverse-toothed blade--the most popular choice for hobbyists--also has teeth that cut on the upstroke, making for a smoother cut.
Each tooth on a crown-toothed blade cuts both on the upstroke and downstroke, making it ideal for plastics and veneers.
Skip-toothed blades, as the name indicates, contain gaps that pull sawdust away so the blades can move without friction. This reduces the risk of leaving burn marks on the wood.
Curtis Rist
, a writer for
This Old House
magazine, parks his power tool collection in New York's Hudson River Valley.
---
Specifications:
- - - - - - - - - - - - - - - -
» Motor: 1/8 HP, 110V
» Single-phase, 1 Amp, 60 Hz
» Variable speed motor
» No load speed: 550-1700 SPM
» Maximum cutting thickness: 2"
» Maximum cutting width: 16"
» Blade stroke: 51/64"
» Takes both plain & pin blades
» Approx. shipping weight: 38 lbs
Variable speed control, extra cutting capacity and cast iron construction are the features most sought after in a Scroll Saw. The
Shop Fox Scroll Saw
also offers a gooseneck work light, dust blower and dust port, large 45° tilt table and easy blade changes ...

More info / Buy now
---
» Goes from 400 to 1600 strokes per minute
» Cuts wood up to 1.9" thick with a 16" throat depth
» Spacious 16" x 10" table
» Bevels up to 45° to the left for angled cuts
» Cast iron body provides a stable base with limited vibration
» Includes air pump, flex light, dust port, foot lock clamp, 2 blades

More info / Buy now
---
With a Woodtek® 24" Benchtop Scrollsaw you get a heavy duty machine backed up by a solid, cast iron table and body for rock solid, smooth cutting. Net Weight: 75 lbs

More info / Buy now
» Motor: ⅛ HP, 120V, 2.2A, 1PH - (power cord and plug included)
» On/Off Switch: Push button, mechanical - keyed for safety
» Blade Speed: 860 and 1,720 CSPM
» Sawblade: 5" long, pin or plain end
» Table: 20⅝" x 11⅛" w/ 2½" dia. x ⅛" thick removable insert
» Table tilts: 45° left
» Maximum Throat Depth: 24-1/2"
» Maximum Cut Depth @ 90°: 2-1/2"
» Maximum Cut Depth @ 45°: 13/16"
» Overall Dimensions: 15-1/4"H x 34-1/2"W x 13-1/4"D
---
Woodworking Reference Books
Scroll Saw Workbook
Details progressively more advanced techniques including stack cutting; cutting metal, plastic, and paper; relief cutting; inlay; segmentation; and puzzle making ...
Scrollsaw Patterns
The finest techniques and projects in a pattern collection that any woodworker will treasure ...
---
---
PLEASE NOTE:
This page is a participant in the Amazon Services LLC Associates Program, an affiliate advertising program designed to provide a means for sites to earn advertising fees by advertising and linking to
Amazon.com
.