❈ Clear Finishes: Polyurethane, Oils, Sprays
... Great Products for Wood Finishing
---
This finish soaks deep into wood pores to provide protection from the inside out. Because it hardens inside the wood, it will never chip, peel or wear away.

Made from a unique blend of penetrating oil and varnish that stains, seals and protects in one easy step, it enhances the natural look and feel of the wood, and creates the rich, warm glow of a hand-rubbed finish.

Great for furniture, trim, molding or any other bare wood interior surface. Simply wipe on with a brush or cloth. Quart.
---
❈ Finishing Tips: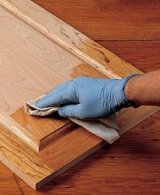 Always work in a well-ventilated, dry and warm place with good light.
If the area is cold or damp, wood finishing products may require a longer drying time than the labels indicate.
A basement, attic or garage may meet your needs. The corner of a living room could be a temporary workshop if you put down a heavy drop cloth.
When finishing a project, wear old clothes; they are generally lint-free, lessening the chance of particles getting stuck in the finish.
And don't forget to wear gloves, to keep your hands clean and protected!
---
❈ How to Apply Tung Oil
~ from wikipedia.org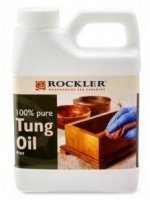 The traditional technique is to apply the diluted oil as a succession of very thin films with soft non-fuzzy cloth like tee-shirt cotton. Dilutants range from traditional Spirits of turpentine to any of the new citrus thinners to VM&P naphtha. The choice of thinner should be guided by how fast the coating needs to set. Naphtha is often too fast, but works well in spray-on applications in well ventilated studios.

Primary coats may be laid down at a 1:2 oil-to-thinner ratio, and successive layers (3 or more) at higher oil concentrations, with the final layer consisting of the oil alone. This technique results in the traditional wet-wood look by filling in all open wood cells as water does. The finish is matte by its nature.
Tung Oil finishes that start with polymerized pure oils or 'tung oil preparations' are best applied in the 'fat over lean' principle: thinned pure oil is applied to deeply penetrate the surface, to fill pores. Straight oil is then applied moderately to adhere to the surface and provide a good base for the thick gloss layers. The polymerized oil is then applied thickly as a single layer, allowed to fully dry, is buffed smooth with very fine sandpaper then 00 steel wool. The surface is wiped clean with a moistened rag, then allowed to dry. A final coat is again applied fairly thickly - the oil will smooth itself into a glass-like coating - and allowed to dry for two to three days. The resulting finish is almost completely impervious to water.
---
---
---
---

---

As an associate of the
Rockler.com
affiliate program, we receive a small commission for sales generated through links to their products. Thanks for shopping!
---