Enhance the Beauty of Wood
General Finishes: Water Based Wood Stains
---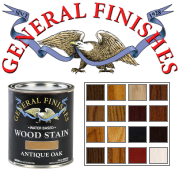 Created to be easy to use and consistently outperform your expectations even on difficult woods like maple and pine. Only the finest ingredients are used to create the rich color, heavy body and longer open time that's the hallmark of these nonflammable dye/pigment blend water based stains.

The rich colors enhance the beauty of the wood while the heavy bodied formula and longer open time makes it easier to control the depth and evenness of color.
Features Include:
▸ No harsh chemicals or toxic vapors.
▸ Easy clean up and outstanding performance make these stains a natural choice.
▸ Indoor use only.
▸ Hint: Natural is the base from which all the colors are made.
▸ Can be used to enhance the beauty of the wood like a stain prior to finishing but is primarily intended to be used to dilute the other colors.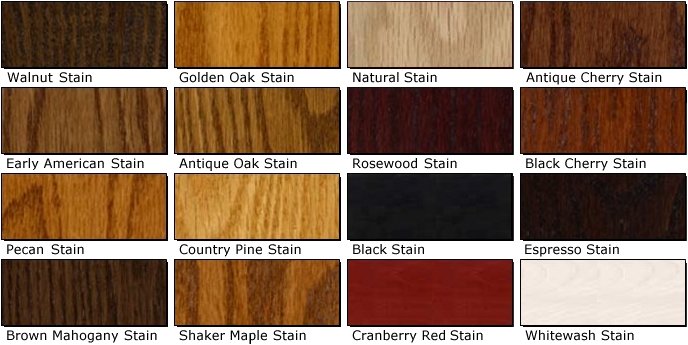 ---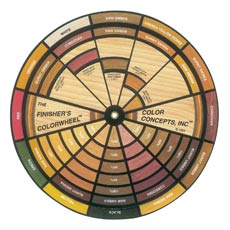 This unique tool was developed to help woodworkers better understand how typical woodworking tints can be intermixed to create specific colors. It takes the guesswork out of mixing colors!

To use the Colorwheel, rotate the inside wheel and watch for the desired color to appear through one of the windows. When you have found the closest color match, mix the appropriate colors as shown.

Ideal for use with liquid or powder dyes and standard premixed liquid stains. » view larger image
---
DIY Application Guide
for General Finishes Water Based Finishes

These are general instructions to guide you through the finishing process using water based products. Always refer to the manufacturer's specific instructions. Application guidelines for each manufacturer may vary.
▸ Attributes of General Finishes Water Based Finishes
This information has been developed to assist you in selecting the best finish for your project. Application techniques differ between oil based and water based products. There are several factors that may influence your choice.
▸ Strong, Clear Vibrant Colors
Nothing produces beautiful colors better than water based finishing products. Red, blues and greens and everything between produce vibrantly in water based finishes. Whether you want brilliant hues to enhance a neutral room, a touch of whimsy or the comfort of classic colors; furniture color is the perfect venue for self expression. With unfinished furniture, the possibilities are endless.
▸ Top Coat Color
Water based top coats are milky white in the can, dry to a crystal clear finish, and will remain clear throughout the life your project. Oil based top coats have a slight amber color in the can, and dry to a clear finish which can darken over time.
▸ Clean Up
Water based finishes clean up conveniently with water.
▸ Non-Combustible
Water based products are non-combustible, unlike oil based products.
▸ Recommended Finish For Open Grained Woods
Water based products are a topical finish. We recommend using them on any woods that penetrate easily, such as pine or aspen, to produce a more even looking finish. Conversely, oil based stains tend to penetrate the wood more, and can bring out more variation in the final result. With that said, remember you are applying finish to parts of a tree, and every piece will look different! Use the fingernail test. If your fingernail dents the surface, you have a soft wood, like pine or aspen.
▸ Sun Light
The sun affects everything. If left in strong sunlight, the pigments and dyes in Wood Stains will fade like everything else. However, water based Milk Paints paints are an ideal exterior product and hold color quite well over time.
▸ Grain Raise
Water based products produce more grain raising than oil based finishes - they do require a different finishing technique. Before applying the finish, spray the project with water or rub down with a damp cloth. Allow the wood to dry and then sand lightly to remove the raised grain. This conditions the wood to accept water based finishes. You will get a perfect finish by following the application instructions. The amount of grain raising is dependent on the type of wood species.
▸ Dry Time, Temperature & Humidity
Water based products dry faster so your project can be completed faster. Dry times are temperature and humidity dependent. Dry time is normally 2-4 hours under ideal conditions (70° and 70% humidity). Cooler temperatures or higher humidity will prolong dry time to 8-10 hours. Water based finishes must be applied at temperatures above 65 F. Cooler temperatures will adversely affect how the finish will level and harden, causing fish-eyes or craters. If it is cold enough to wear a sweater it is too cold to apply a water based finish. Good ventilation, air movement and higher temperatures will accelerate dry time. If working in high temperatures or low humidity, water based finishes may be thinned with 10-20% water or General Finishes Extender (3 to 6 oz. per quart) to improve open time for application. High humidity can extend the dry time but will not harm the final finish.
▸ Mixing Custom Colors & Tinting
You can create unique colors by mixing any two shades of water based products. Be sure to write down exactly how much of each color is in the mix and mix enough to complete the entire project. Tinting may be accomplished by adding 2 oz of Wood Stain and 2 oz. of water to a pint of Top Coat (or 4 oz. of each to a quart). Mix the water and stain together first, then add this mixture to tint the Top Coat. Stir well. Do not mix water based products with oil based products.
▸ Cure Time
Allow the final Top Coat to cure for a period of 14 days to reach optimum hardness. You may use your furniture sooner. Just treat it with special care during the curing period.
▸ Maintenance
To maintain the finish clean surface with a damp washcloth and wipe dry. Cleaners such as Pledge and Murphy's Oil Soap are not recommended because they leave a dull residue on the finish. Water based surfaces may be cleaned with a damp cloth or General Finishes Orange Oil. Do not use household cleaners or window cleaners. Paste wax is not recommended because it builds up and yellows, thus becoming a maintenance problem. Top Coats may be recoated at any time in the future. Remove any grease or dirt, lightly sand with #320 or finer grit sandpaper, and then apply another coat.
▸ Coverage
150 sq. ft. per quart.
▸ Storage
Keep from freezing.
▸ Spraying
While both oil based and water based products can be sprayed, water based products really spray like a dream with water clean up. Water based topcoats are self leveling and dry quickly.
▸ Surface Preparation
All surfaces should be clean and free from all dirt and oils
Sanding is a progressive procedure. Do NOT start sanding with very fine sandpaper on unfinished wood. Prepare the surface by using medium sand paper first, and then proceed to finer grades. Water based finishes need a smoother surface than oil based finishes, but do not over sand or you may seal the wood so much that it will not take a finish. Sand raw wood in the direction of the grain starting with a coarser grit sand paper such as #120 sandpaper, and finish the final sanding with a fine grit sandpaper such as #180 or #220. End-grains (areas where the wood has been cut against the grain), such as the front side of a table, tend to soak up more stain than other surfaces. Give end-grain areas an additional sanding to control the absorption of stain.
We recommend minimizing the grain raise, especially on hardwoods such as Oak and Ash. After completing preparation sanding and before applying the finish, spray the project with water or rub down with a damp cloth. Allow the wood to dry and then sand lightly to remove the raised grain. This conditions the wood to accept water based finishes.
Option for wood stains: Soft woods such as Pine and Aspen absorb wood stain at an uneven rate and may respond better to staining if the wood is pre-sealed. A natural (clear) stain can be applied to raw wood to condition the surface for uniform penetration of the stain. Pre-sealing will cause the final stain to be lighter. Always test your color on a hidden part of the furniture!Allow the natural clear stain to dry 1 hour before applying your final stain color.
Remove dust with an air hose, damp cloth or "oil free" tack cloths. Do not use oil based tack cloths when using water based finish. Most tack cloths contain oil and will contaminate the surface.
Do NOT use steel wool when preparing wood for water based finish, as steel particles will cause rust spots.
There are two methods to fill nail holes with wood putty: 1) fill holes before you stain using putty that dries hard and can be sanded and stained, or 2) stain the wood, apply one Top Coat, and then use water based color putty that matches the stain.
▸ Supplies Needed
Lots of good quality paper towels or lint-free cloths for wiping. Do not use tee shirts with water based products - they do not absorb well.
Foam brushes or latex paint pad applicators and a bristle brush to pull stain out of corners. You must brush or wash paint pad applicators before use to remove loose bristles.
Note: Purchase a brush that will fit in the can.
#120, #180 or #220 grit sandpaper for sanding raw wood.
#320 or #400 grit sandpaper or superfine sanding sponges for buffing between Top Coats. Do not use steel wool because steel particles left behind will rust.
Soap and water for clean up.
Paper plates and aluminum foil to make disposable paint trays.
▸ Application of General Finishes Water Based Wood Stains Tips
Remove hardware from furniture. Taking a little extra time to remove backs of cabinets, drawer fronts etc, will make staining much easier.
To minimize grain raising, complete surface preparation sanding and prior to applying Top Coat, dampen the wood with a wet sponge or spray bottle. Allow the wood to dry completely and lightly finish sand again with #180 to #220 grit sandpaper. Do not sand through the grain raise layer. This conditions the wood to accept water based finishes.
To get a consistent stain on soft woods such as Aspen, use Natural Stain as a pre-stain conditioner. Apply Natural Stain, wipe off evenly, wait 30 to 60 minutes and apply your stain color. Always test the color on the underside of the project before you begin. It is your responsibility to insure that the color is what you want.
All top coats (water, oil, lacquer, wax, etc.) may be used over Water Based Stains if they have dried properly. All Wood Stains may be intermixed to create custom colors or may be lightened by adding Natural Stain.
A second coat of stain will produce a slightly darker color.
If working in high temperatures or low humidity, Wood Stains may be thinned with 10-20% water or General Finishes Extender (3 to 6 oz. per quart) to improve open time for application.
Tinting may be accomplished by adding 2 oz of Wood Stain and 2 oz. of water to a pint of Top Coat (or 4 oz. of each to a quart). Mix the water and stain together first, then add this mixture to tint the Top Coat. Stir well.
Use only tack cloths made for water based products (containing no linseed oil).
▸ Hand Application of General Finishes Water Based Wood Stains
Always stir the contents well. Stirring reduces the thickness of the stain and distributes pigments that may have settled to the bottom of the can.
It is essential to apply a wet, liberal amount of stain with a foam brush or a latex paint pad applicator to insure easy workability. If too little stain is used, the surface can dry too quickly causing an uneven appearance.
Divide your project into manageable sections (top, side, drawer, door).
Stain a complete section and wipe off the excess evenly with the grain using paper towels or a clean cloth. Check for missed spots and lap marks before moving to the next section. Immediately correct lap marks by rewetting the entire working area with stain and wiping the excess off.
Sanding between coats of any stain or top coat is referred to as Buffing. We do NOT recommend buffing between coats of stain because you may remove an area of stain that cannot be re-blended. If you must buff because you have imperfections that need to be smoothed out, do so with caution using a superfine sanding pad or #320 or #400 grit sandpaper. Do not buff prior to the first application Top Coat.
On most projects three or four coats of Top Coat is just right. On projects receiving extra wear such as table and desk tops, additional coats will add more protection. Tip: use our High Performance Polyurethane for even more durability.
---
This free script provided by JavaScript Kit
---

We are a participant in the Amazon Services LLC Associates Program, an affiliate advertising program designed to provide a means for sites to earn advertising fees by advertising and linking to
Amazon.com
.