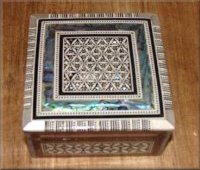 Trinket Box Mother of Pearl
3.8" x 3.8" x 1.8"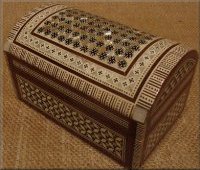 Mother of Pearl Arched Lid
5.6" x 3.6" x 3.2"
Mother of Pearl Boxes
by 'Crafts Of Egypt'

These artisans use abalone, paua blue shells and white resin which are cut in small pieces and inlaid into the wood creating beautiful mosaic designs!

The interior is lined with quality velvet.

Each box is ideal for jewelry or gift giving.