Wooden Tea Boxes ~ Tea Storage
Great boxes to organize and store your favorite tea. Bamboo seems to be the favorite choice among our site visitors!
---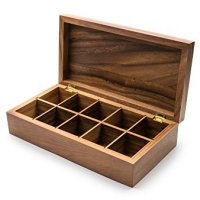 Made of gorgeous Acacia hardwood, this tea box is functional and beautiful due to its rich, shimmering colors. Its attractive design will add a nice, warm touch and organization to any kitchen.
Features include:
» 14¾" x 7¾ x 3¾
» 10 compartments
» Easy to maintain and clean


---


Features include:
» Bamboo Tea Storage Box
» From sustainable forests
» 8.6" x 5" x 3½"
» Three compartments
» Neat display for tea bags


---


This elegant bamboo presentation box is sturdy enough for restaurant use, and beautiful enough for the home. Makes a great gift, too!

Create a thoughtfully delicious tea sampler by filling the box with a variety of herbal, black, and green teas. The box will hold up to 80 individually wrapped bags.


---


Features include:
» Organize and store your tea
» Fits into any space
» 5 sections for storage
» Eco-friendly Acacia
» 14" W x 5" D x 3¾" H


---


Features include:
» Sturdy bamboo
» Warm, neutral-colored finish
» Hinged, clear-paneled lid
» Removable dividers
» Wipes easily clean
» Mineral oil to maintain luster
» 7½" x 12½" x 3¾"


---


Features include:
» Compact organizer
» Renewable bamboo
» Clear coated, stain resistant
» Hand wash only
» 9½" W x 4½" D x 2½" H


---
---

---

We are a participant in the Amazon Services LLC Associates Program, an affiliate advertising program designed to provide a means for sites to earn advertising fees by advertising and linking to
Amazon.com
.