These cutouts are perfect for any arts and crafts projects. You can let your imagination run wild. Use paint, makers, crayons, glue, glitter, etc. to decorate your own one of a kind masterpiece. Made from strong ¼" MDF, each item is cut out using a CNC machine resulting in high detail. All of these items are made in a small Woodworking shop located outside of Cleveland OH.
---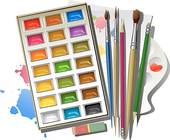 Unfinished State Wood Cutouts
These oversized, half inch thick, plywood states are the newest trend in wood! The craftsmanship and quality of these products is remarkable. These multipurpose wood cutouts can be left unfinished, painted, stained, stamped, dyed or decoupaged. They also make a wonderful base for a mosaic.
» These cutouts are huge!
» Quality craftsmanship
» USA Size: 23½" Wide x 14 ½" High
» Material: ½" thick Baltic Birch Plywood
» Wood: Sanded smooth
» Ready to finish
» Mounting Hardware: Not included
---
---

---
| | |
| --- | --- |
| PLEASE NOTE: We are a participant in the Amazon Services LLC Associates Program, an affiliate advertising program designed to provide a means for sites to earn advertising fees by advertising and linking to Amazon.com. Thank you! | Search Amazon.com: |