❈ Build Your Own Garden Arbor
---
If you've got the room, we've got the plans. This beautiful arbor stands 91" tall and 144" from end to end.

▸ It works great for hanging an arbor or swing
▸ Slatted ends work great for climbing plants
▸ Sturdy top cross members great for hanging plants
▸ The classic porch swing plan is sold separately.
---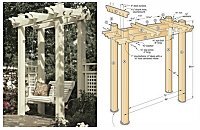 This freestanding structure with 6x6 posts lets you venture beyond the deck for outdoor seating. Plan is for the arbor only, swing plan sold separately. Project measures 8" tall x 106" long.
Add elegance to your outdoor living with this airy pavilion. Easily sized to fit any space, this versatile pergola will enhance your deck, patio, or yard. The one shown here occupies a 111" x 148" footprint, but you'll learn how to increase or decrease as needed.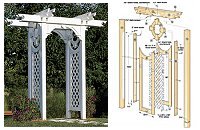 Basic skills and our step-by-stepinstructions are all you need to build this inviting garden gateway. Measures approximately 8' tall x 36" wide x 24" deep at the base. Featured in WOOD Issue 148, May 2003
---
Using just a portable circular saw, jigsaw, and drill, you can build and "plant" this eye-catching masterpiece in a weekend.

▸ Overall: 80" wide x 42" deep x 92" high
▸ Featured in WOOD issue 176
▸ Download now or Order by Mail



---
If you're the type of person who spends the lion's share of your leisure time gardening and otherwise tending your yard, you'll appreciate this project.

Made of long-lasting cedar, this backyard classic will gracefully accent your surroundings and serve as a comfortable place to contemplate the joys of your gardening chores. ▸ 48" wide x 31-1/8" deep

As a participant in the WOOD Store Affiliate Program, we earn advertising fees by advertising and linking to
WOODstore.net
.