Outdoor & Backyard Plans

Digital Download:
Downloads are delivered instantly to your email inbox upon receipt of payment. If you are ordering a downloadable plan, article, or back issue you will need a PDF viewer, such as the free
Adobe Reader
.

Mail-Direct:
Printed plans and physical products are mailed via USPS and typically arrive within 7-10 days.
---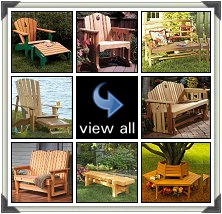 Basic joinery ensures that you can build this heavy-duty outdoor table and benches with little fuss. Build it from cypress, cedar, pressure-treated lumber, etc., and it will last you through many seasons
This classic design adds beauty - and a relaxing resting place - to any outdoor setting. For ease of construction, this project goes together almost entirely with glue and tight-gripping screws - you can't see them, but they'll keep the bench rock-solid season after season
---
Build this weekend project completely from home-center cedar or follow our easy directions for replacing the top with a weather-impervious concrete slab. Either way, this mobile culinary station features ample storage for supplies, expansive prep space, and hooks for hanging accessories. You supply the kabobs, and the aroma will produce plenty of friends
Simple glue-and-screws joinery makes building it a breeze. Made with notches in the middle layer of the graceful, but sturdy, laminated legs that trap the side rails for joints as strong as mortises and tenons. Overall dimensions: 42" high x 56" wide x 43" deep
---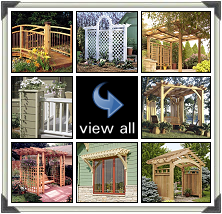 Bridges are among the most spectacular and admired examples of mankind's desire to build. This span will turn your landscape into an object of admiration, even if you don't have a body of water to cross. Just create a dry-stream setting for your structure by laying down a bed of rounded pebbles
Using only portable power tools, you can turn dimensional lumber into the start of your deck, patio, or garden. 70" L x 19" D x 16" H
---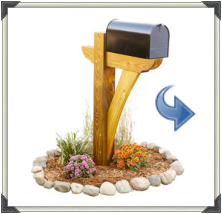 With pressure-treated 4x6 beams and a 6x6 post, this mailbox is both sturdy and long-lasting. Another strength: It provides the opportunity to try your hand at several time-honored timber framing techniques that might have you considering a barn as your next project
This project perfectly complements our outdoor bistro table. The server and stools employ the same simple construction as the table, so you can knock out a set in a weekend. 53" W x 30" D x 36" H
With only two posts to set and nothing to rip, you'll be relaxing in your new swing in no time. These projects feature simple joinery - screw and a few notches - for quick construction. Decorative battens and beams strengthen the arbor while providing partial shade. Overall dimensions: 111" W x 42" D x 91½" H
---
This free script provided by JavaScript Kit
---

As a participant in the WOOD Store Affiliate Program, we earn advertising fees by advertising and linking to
WOODstore.net
.