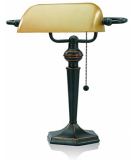 Home Office Furniture
A fine selection of home office furniture ranging from traditional to modern office furniture. This includes modern desks, executive desks, home office desks, L and U shaped corner desks, and computer desks. Contemporary home office furniture will give your office the sophisticated look it deserves.

Add a nice Mesh Office Chair and Banker's Lamp and you will be in style!
---
This free script provided by JavaScript Kit
---

This page is a participant in the Amazon Services LLC Associates Program, an affiliate advertising program designed to provide a means for sites to earn advertising fees by advertising and linking to
Amazon.com
.