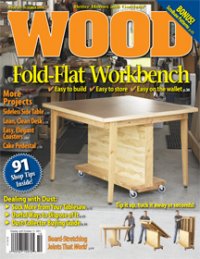 Tools & Materials
- - - - - - - - - - - - - - - - - - - - - - - - - - - - - -

Wise Buys: Pipe-Clamp Jaws
As a fast, effective and economical means for gluing up large panels or tabletops, you can't beat good old pipe clamps. Each clamp comes as a two-piece kit consisting of a head jaw that remains fixed at one end and a tail jaw ...

How to Buy the Right Dust Collector
A dust collector has two simple jobs: pulling debris away from your machines and filtering out any tiny, unhealthy dust particles before sending the air back into your shop. This article will help you choose the right dust collector for your needs. No charts, no math, no bull ...
Dovetail Drawers: Buy 'Em or Build 'Em?
Nothing screams "quality construction" for cabinets and furniture more than dovetail drawers. This article will analyze the process of ordering and installing custom-made drawers and how it affects your wallet ...

Shop Test: 4-Jaw Lathe Chucks
Whether you turn bowls, platters, hollow vessels, or finials a 4-jaw chuck provides all the holding power you need. After testing nine chucks, it was found that little details make the better performers rise to the top ...

Shop-Proven Products
The experts at WOOD magazine test hundreds of tools and accessories, but only those that earn at least 3 stars for performance make the final cut. This acticle tests a deep-boring drill press, face-frame clamps, and more ...
» Plans in WOOD Issue 207 Include: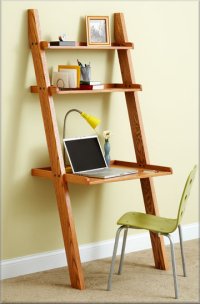 While browsing in a furniture store for a small desk for his wife, reader Joel Rupert, found inspiration when he spied a ladder-type bookcase. He modified the design with only two upper shelves and a desk-height worksurface perfect for a laptop computer. Knockdown fasteners securely hold the desk together, and allow quick disassembly for storage or transport.

Overall dimensions: 33" wide x 24" deep by 73" high.

Featured in the October 2011 issue of WOOD ...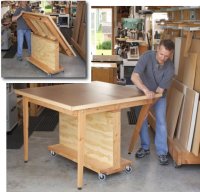 Every shop needs a workbench, but there's not always sufficient room for a dedicated surface large enough to build furniture projects. That's the beauty of this bench: It's a sturdy workbench, a dead-flat 4'-square assembly table, and it can even serve as a tablesaw outfeed support.

Overall dimensions: 48" wide x 48" deep by 34" high (unfolded); 18" wide x 48" deep x 55" high (folded).

Featured in the October 2011 issue of WOOD ...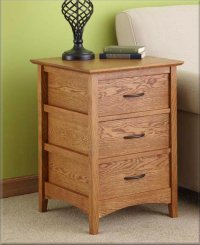 This table hides its unique minimalist construction. That's because the drawers don't disappear inside an enclosed carcase leaving only their fronts visible. Instead, the drawers fill in where side and back panels should be. Removing the drawers reveals a skeletal carcase of four legs joined by rails, and a top panel.

Overall dimensions: 19" wide x 19" deep by 27" high.

Featured in the October 2011 issue of WOOD ...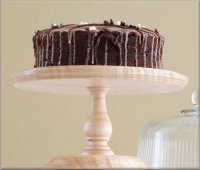 Here's a chance to hone both your spindle and faceplate turning skills and if you're lucky, get a tasty treat for your efforts. To prevent screw holes, we used a four-jaw chuck when turning the base. If you don't have such a chuck, a faceplate will do, but use the short screws that won't poke through the top of the base.

Featured in the October 2011 issue of WOOD ...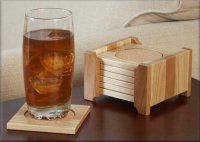 Contrasting woods give these coasters - and their matching holder - a classic styling, while a cork insert (sourced in the article) absorbs condensation to protect your tabletops. Simple, scrapwood construction means you can go from making them in your shop to relaxing with a glass of iced tea in one day.
Skill Builders
- - - - - - - - - - - - - - -
» Improve Your Tablesaw's Dust Collection:
Three tips to improve tablesaw dust collection from the top down.


» 3 Easy Water-Resistant Finishes:
Can ease-of-application and water-resistance exist in a single finish? We found three. But we cheated.


» What to Do with All That Sawdust:
These dozen ways to recycle sawdust might even make you question thin-kerf blades.


» Beat Blade and Bit Burn Marks:
Doing everything right but still getting scorch marks from your router bits and tablesaw blades? Try these pointers.


» End-to-End Joints That Work!:
Forget the old "board-stretcher." When you need longer stock, the right end-to-end joint can solve your problems as easy as 1 + 1.


» Make the Most of Color-Changing Woods:
Here's how to slow, prepare for, or even use wood color changes to your advantage.
» Order WOOD October 2011 issue ...