Wood Finishing ~ Paints ~ Stains ~ Accessories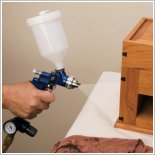 Rockler.com has been on the web since 1996. They are reaching more woodworkers than ever before! Whether you're a seasoned pro, a home improvement enthusiast or a craftsperson, we believe you will enjoy browsing their online catalog of woodworking supplies.

Rockler offers popular stains, paints and other DIY finish products, as well as interesting tips! Rockler is constantly on the lookout for new ways to make all your projects as fulfilling as they can be.
---
Choose from dyes, water-based stains, oil-based stains, gel stains and more.

Shop All ...
Top-quality options for your painted projects, including a wide variety of EF Milk Paints.

Shop All ...
Paint strippers, solvents, steel wool, repair kits and more.

Shop All ...
Products inslude brushes, sprayers, sponges and cloths.

Shop All ...
Enhance, protect and preserve the beauty of your woodworking.

Shop All ...
Achieve a fine finish faster and easier with these workshop helpers.

Shop All ...
---
---

Note: We are an associate of the
Rockler Woodworking and Hardware
affiliate program. We offer links to their products in exchange for a small commission. Thank you for shopping through our links.