Furniture Project Plans from Rockler.com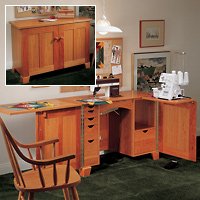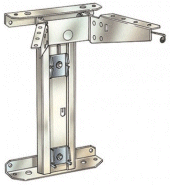 Build your own deluxe sewing center with cabinet tops that fold out in two directions for doubling your countertop work surface, multiple storage drawers and a special serger compartment.

The plan utilizes the special sewing machine lift mechanism offered in this section of our electronic catalog. An optional hardware kit is also available.

The lift mechanism sold separately.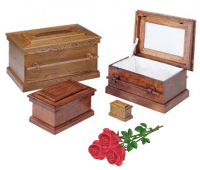 A labor of love - for those of us with the skills to build things out of wood, making a final resting place for a loved one can provide important resolution and closure. The products and plans we've collected and designed for this special page will enable woodworkers to complete a casket in a short period of time without taking months of difficult research.

It's easy to build these caskets using the detailed drawings and step-by-step instructions. To meet your needs, the plan comes with four casket sizes: large, medium, small and extra small.For cemetery burial, please contact your local pet cemetery for their standards and requirements.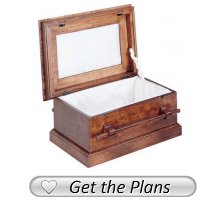 Small: suitable for small birds & hamsters
▸ 4.5'' H x 7.5'' W x 4.75'' D
Medium: small cats & dogs
▸ 13'' H x 19'' W x 10-1/4'' D
Large: bigger cats & medium sized dogs
▸ 14-5/8'' H x 28.25'' W x 20.25'' D
X-Large: big dogs like retrievers & labs
▸ 19'' H x 36'' W x 24'' D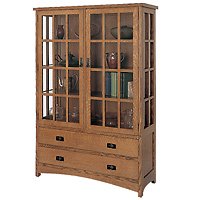 Plans for building a Mission style hutch resembling those made by Gustav Stickley.

Hutch measures 71'' high x 50'' wide x 16-1/2'' deep.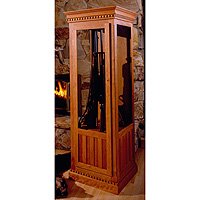 Holds up to 8 guns on a rotating Gun Caddy. The plan appeared in the Woodworker's Journal, Nov./Dec. 1999 issue. Molding and decorative shapes help display your guns with style.

Supplies required to complete this project include:
- Two Drawer Locks Item
- One Cylinder Lock
- Two pair of Inset Hinges
- One Lazy Susan Swivel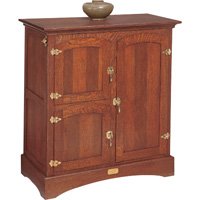 Recapture an important part of history by building a traditional styled Icebox. The Ice box may be modified to serve as a storage cabinet for small appliances, electronic units, kitchen supplies, bathroom goods or any special purpose.

This project is appropriate for intermediate woodworkers. Construction methods used include tongue and groove joinery and doweling. Cabinet features basic frame and panel and face frame design. Decorative eliminates include cove molding and router details. A router and other common workshop tools are needed for construction.

Primary building materials include hardwood plywood and cove molding. To complement a traditional appearance, authentically styled reproductions of icebox hardware should be installed.

Dimension for the Icebox is: 47-1/4" High x 44" Wide x 22" Deep.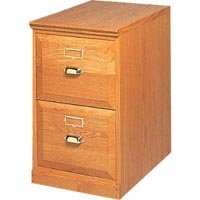 Add a touch of class to your office with these file cabinet plans! Metal file cabinets simply can't match a handcrafted wooden one in beauty.

Designed with attractive raised front panels in either a two drawer (29'' high) or four drawer (53'' high) cabinet. Both sizes are 15-13/16'' wide and 22-3/4'' deep. Plan uses basic rabbet and dado joinery.
Technical Details
▸ Can be constructed with either two or four drawers
▸ Two-drawer design is 29'' high; four drawer design is 53'' high
▸ Both two and four drawer designs are 15-13/16'' wide x 22-3/4'' deep
▸ Includes plan only
---
---
---
This free script provided by JavaScript Kit
---

As an associate of the
Rockler.com
affiliate program, we receive a small commission for sales generated through links to their products. Thanks for shopping!