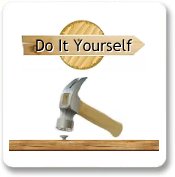 DIY Clock Plans: Build Your Own
For the DIY woodworker, here are some great clock plans from our friends at WOOD Magazine that we think you will enjoy building ...
---
Here's a winning clock design literally. Originally built by reader Larry Cardingley of Mardian, Idaho, this beauty was one of the finalists in our "It's about Time" Clock-Building Contest. Measures 14" tall and 8" wide. ▸ More Info / Buy Now
---
---
Create this contemporary version of a centuries-old, English-inspired timepiece. The case assembles with straightforward rabbet joinery, and full-size patterns make shaping the peaked pediment and its onlays a snap. Finished piece is 15" tall.
▸ Order by Mail / Download Now
---
---
We all have 'em: wood scraps to little to be of much use, but too beautiful to toss out. Now you can fashion those exotic or figured castoffs into a handsome time piece. ▸ More Info / Download Now
---
It's hard to beat the elegant good looks of handcrafted mission-style pieces. WOOD magazine has continued that tradition with this handsome 21" tall tabletop clock. Quartersawn oak, tapered square buttons, and an "aged" copper face make for a timepiece guaranteed to garner compliments.
▸ Order by Mail / Download Now
---
---
Like wall clocks built by the Shakers in the early 19th century, this version features clean, unadorned design lines. Although the Shakers frowned upon watches, wall clocks abounded. Today collectors seek out the originals and pay dearly for them. This clock measures 13" wide, 6" deep, and just under 3' tall.
▸ Order by Mail / Download Now
---
---
This free script provided by JavaScript Kit
---

We are a participant in the WOOD Store Affiliate Program, an affiliate advertising program designed to provide a means for sites like outs to earn advertising fees by advertising and linking to
WOODstore.net
.