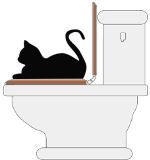 ❈ Comfort Seats: Wood Toilet Seats
Constructed using wood, these seats are sturdy and durable. Seat and hinges available in a range of finishes to choose from.

---
The traditional bar hinges are factory installed and perfectly aligned between the cover and seat to ensure proper support.

These plated hinges are corrosion-resistant and have finish-coordinated screws.

Color coordinated bumpers complement the look.

We are a participant in the Amazon Services LLC Associates Program, an affiliate advertising program designed to provide a means for sites to earn advertising fees by advertising and linking to
Amazon.com
.