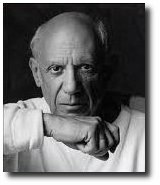 Pablo Picasso ~ The Father of Cubism
Born: October 25, 1881 - Died: April 8, 1973

Often referred to as "the Father of Cubism", Picasso was born in Malaga, Spain. His technically skilled drawings and paintings first emerged at the age of 15. It is widely known that George Braque and Juan Gris played a major role in the cubism movement, but Picasso seems to have been the most popular in Cubism overall. He may have made the most money from it in his lifetime, compared to other cubists. Picasso had an original style which continued to evolve throughout his long career. He died at his home in France at the age of 92.