DIY Wood Box - Part 2
Woodworking Plans from WOOD store® and WOOD® Magazine ...
---
↓ ↓ click on each box image for larger view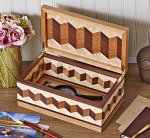 Alternating shades of cherry and walnut create the illusion of corners extending toward and away from you. Quilted maple enhances the effect. Lift the lid to see the pattern inside, too. Featured in
WOOD Issue 243
, November 2016.
---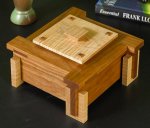 This handsome box takes design inspiration from the low profiles and horizontal lines of Prairie School architecture. Careful machining and attention to detail will reward you with a truly unique tabletop keepsake box. Featured in
WOOD Issue 217
, March 2013.
---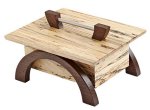 Here's the perfect project for getting the most bang for your exotic-wood buck. Less than two total board feet does it, plus a foot or so of aluminum rod and a scrap of 1/4" plywood.
---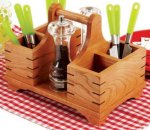 Build this handy hardware hauler in half a day. Use our simple V-groove jig (plan included) to cut the corner slots for the decorative splines. This cool caddy plan is ready to download instantly to your computer!
---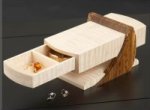 Inspired in part by Frank Lloyd Wright's clever use of architectural cantilevers, this suspended jewelry box utilizes deceptively simple dadoes and rabbets for joinery. To open the drawer, simply push the opposite end through the drawer box. This box measures 4" Wide x 8" Long x 4" High
---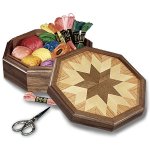 Growing up in Pennsylvania, woodworker/designer Patrick Leonard visited many art festivals and exhibits. Quilts were a popular item, and the star pattern, with its infinite variations, was one that frequently caught his eye. Today, Patrick incorporates that time-honored design to top off his fashionable hardwood keepsake boxes. If you're looking for a project that's a surefire crowd-pleaser, we hope you'll agree, this is it.
---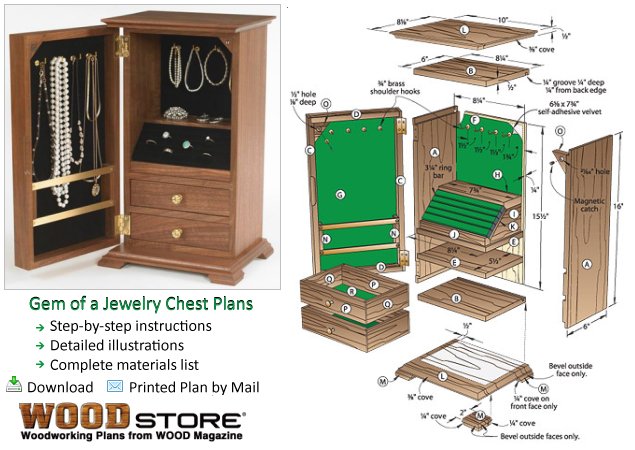 With elegance befitting its shimmering contents, this spacious case will become a treasure dressing-table accessory. The inset door panel, ideal for displaying beautiful wood-grain patterns or colors, offers you an opportunity to give this jewelry cabinet that special look your after.
» Simple joinery makes building this box so easy!
» Overall Dimensions: 10½" W x 8⅜" D x 17½" H
---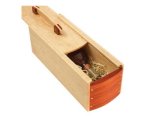 Give a memorable present of fine wine packaged in your craftsmanship. This plan is available as both a downloadable plan and a Mail-Direct Plan.
---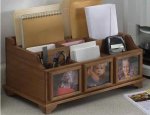 Keep bills, envelopes, pens, and other supplies in this compact, clutter-busting accessory.
» Personalize it with a trio of photos.
» Overall dimensions: 16" L x 9" W x 7" H
---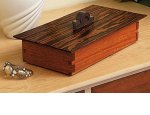 Beautiful wood, an elegant design, and your choice of corner joinery make this project the perfect gift. We'll even take you through the step-by-step process of hand-cutting the dovetails.
---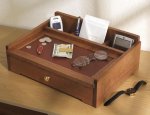 Keep personal items organized and handy in this stylish mahogany accessory accented with easy-to-install burgundy cloth-backed vinyl on the top and in the drawer. Project measures 15" wide.
---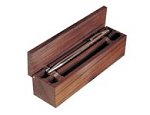 It stores a pair of pens, then hands them to you. Raising the lid lifts the pen and pencil right out of this handsome desktop box. It's perfect for turned wooden pens and pencils - you could even make the box from the same kind of wood as the writing instruments. Box measures aproximately 6" long, 2" deep, and 2" tall.
---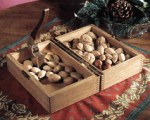 This nutcracker hides away in its own beautiful box between uses. Even better, the box doubles as a nut bowl when the time comes to get cracking on some crunchy munchies. Box measures 9" long by 6" deep.
---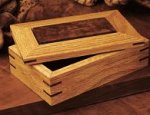 A pretty fair number of ornamental box designs cross our desks, but this is one of the nicest. It's a simple project that doesn't require a lot of work, but the end result is solid construction and a rich-looking face with matching splines. The finished box is versatile enough to make a fine gift for anyone. Measures 7" x 4-1/2".
---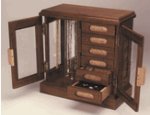 Routed drawer pulls and handles of bird's-eye maple help put this walnut jewelry case in a class by itself. The display carousel on the left side of the jewelry case keeps hanging necklaces within easy reach and tangle-free. Box measures approximately 6" deep, and 10" tall.
---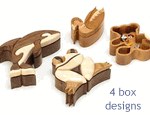 Turn your scrap into great gifts by making any of these four designs. Featured in the March 2007 issue of WOOD magazine.
---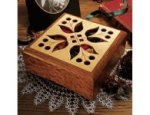 You can make this special potpourri container in just one evening. The screened bottom and decorative scrollsawn top maximize air circulation for "scent-sational" results. Measures 5 x 5 x 2".
---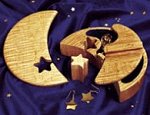 If you've promised the moon and the stars, this cleverly designed jewelry box will rise to the occasion. The sliding lid unlocks when you pull out the star. Inside, another lid conceals flocked secret compartments that are an ideal place for storing hidden treasures. Measures 8 x 5".
---

Note: We are a participant in the
WOOD store
affiliate program, an advertising program designed to provide us a means to earn advertising fees by advertising for WOOD Magazine.