Outdoor Yard & Garden Projects & Furniture
in association with WOOD™ Magazine
---

Digital Download: Downloads are delivered instantly to your email inbox upon receipt of payment. If you are ordering a downloadable plan, article, or back issue you will need a PDF viewer, such as the free Adobe Reader.



Mail-Direct: Printed plans and physical products are mailed via USPS and typically arrive within 7-10 days.
---
Build a great pyramid for your garden in just a day or two. Measures 47'' tall x 22'' wide. For an even more impressive project, add this topper to a Planter Box.



Woodworking plans created by the editors of WOOD magazine contain detailed step-by-step instructions, clear illustrations, full-size patterns for curved and irregular pieces, materials list, and cutting diagrams. You'll need Adobe Acrobat Reader to download, view, and print the plan on your computer.
---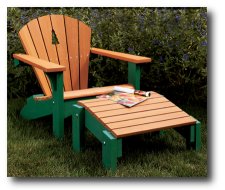 Here are two projects that let you spend a lot more time relaxing than building. But don't let the easy deck-screw-and-bolt-together construction fool you. This duo is both sturdy and supremely comfortable. This plan has 16 pages available as both a downloadable plan and a Mail-Direct Plan.



---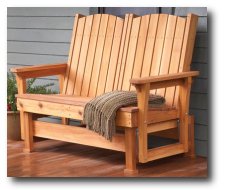 Sit back, relax, and enjoy summer evenings with a friend in this comfy glider. To build it, you need only "one-by" and "two-by" cedar boards, screws, and the simple swinging hardware sources at the end of the article. Available as both a downloadable plan and a Mail-Direct Plan. Featured in the July 2011 issue of WOOD



---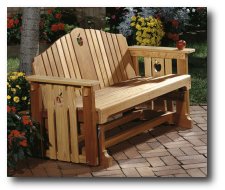 Start now, and you'll be enjoying sunsets from this beautiful piece of outdoor furniture in no time at all! Built of cedar, this outdoor classic requires just strap iron and inexpensive bronze bushings for the smooth-action swing arms that support the seat. Measures: 24" D x 46" L. This is a paper woodworking plan that will be mailed to you ...



---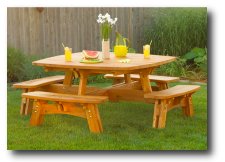 Choose the right materials, and this table will serve you well for many summers to come. The notched frame pieces lock together like Lincoln Logs, making the table solid as a rock. Cutting the notches requires only a circular saw. Featured in the July 2009 issue of WOOD



---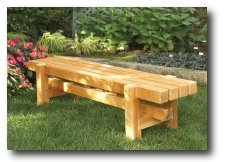 Using only portable power tools, you can turn dimensional lumber into the start of your deck, patio, or garden. Plus, shop for easy-to-find materials on Saturday and, by Sunday, you'll be sitting on your own bench that's built to last for years. Overall dimensions are 70" long x 19" deep x 16" high. Featured in the May 2010 issue of WOOD



---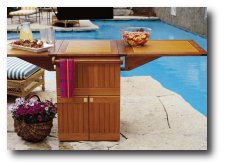 A mobile, weatherproof food and beverage server for your outdoor entertaining. To resist the weather we've used a marine-grade wood finish and caulked the ice chest lid and drop-leaf table extensions just like a boat deck. Available as both a downloadable plan and a Mail-Direct Plan



---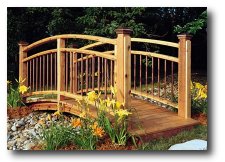 Bridges are among the most spectacular and admired examples of mankind's desire to build. This span will turn your landscape into an object of admiration, even if you don't have a body of water to cross. Measures 36" W and spans 97". Available as both a downloadable plan and a Mail-Direct Plan




As a participant in the WOOD Store Affiliate Program, we earn advertising fees by advertising and linking to
WOODstore.net
.